Payday lenders usually have an advantage over borrowers. The Payday Loan Equity Alliance's goal is to lobby the government for better payday loan laws and give financial education to borrowers.
The annual membership fee for the Payday Lending Equity Alliance is $1200, and members must publish the latest state payday loan laws on OVLG at least once a year.
Payday Loan Equity Alliance members can help you:
Know about the recent payday loan laws and understand your rights.
Distinguish between legal and illegal payday loan companies.
Deal with illegal lenders tactfully.
Settle legal payday loans and save money.
Spot and avoid payday loan scams.
Payday loans are short-term loans that you have to pay back with your next paycheck.
Features of Payday Loans
These are high-cost loans. The average annual percentage rate is 400%.

These loans are available through the storefront and online lenders.

The average loan amount is $395.

The loan term is usually 14-15 days.

You can repay the loan with a post-dated check, or you can authorize lenders to debit funds from your checking account, credit union, or prepaid credit card electronically. Lenders will automatically withdraw money from your bank account if you do not make payments on time.

You can get these loans within 24 hours due to the easy approval process.

Payday loans are bad credit loans as there is no credit check. You can qualify for these loans with a poor credit score.
Back To Index
Payday loans are notorious for being predatory. They are designed to keep people in debt. Because of the short loan term and high interest, most borrowers cannot repay the loan and fulfill their other financial obligations. Lenders impose late fees and additional interests on the loan, which borrowers can't repay.
Here are a few other reasons why payday loans are considered predatory.
They don't consider your ability to pay off the loan.

They are expensive. The average APR of payday loans is 400%. On the other hand, the average APR of credit cards varies between 12% and 30%. That's way too high.

Scams are rampant. Several lenders don't even have a business license.

Since lenders have ACH authorization, they make several attempts to withdraw money from bank accounts even when there are insufficient funds, leading to overdraft fees.
Back To Index
Payday loans are a trap for borrowers. The business strategy of payday lenders is based on making loans that customers can't repay without reborrowing - and incurring even more fees and interest. 75% of lenders' income comes from borrowers stuck in more than ten cash advance loans in a year. This is nothing but a debt trap.
58 percent of payday loan borrowers struggle to make ends meet every month.

Only 14% of debtors can afford to pay back lenders.

Payday loan fees amount to $9 billion per year.

People pay $520 in fees on loans worth $375.

Borrowers stay in debt for 5 months a year.

Payday loans are used by 12 million Americans each year.

7 out of 10 people take out loans to pay electricity bills and rent.

Almost 93% of borrowers regret taking out payday loans.

Around 80% of borrowers feel that payday loans ruin their financial life.

Usually, college students, renters, divorced people, and individuals earning less than $30,000 (per year) borrow payday loans.

Americans have paid fees amounting to $16,988,140 on payday loans.
Back To Index
| States | APR (%) |
| --- | --- |
| Texas | 661 |
| Nevada | 652 |
| Mississippi | 521 |
| Kentucky | 469 |
| Missouri | 462 |
Source: Center for responsible lending
Back To Index
| States | Number of payday loan companies |
| --- | --- |
| California | 2451 |
| Texas | 1675 |
| Tennessee | 1344 |
| Mississippi | 1100 |
Source: Center for responsible lending
Back To Index
To know if cash advance loans are legal in your state, you must check out the state payday loan laws.
US Payday Loan laws - Check if payday loans are legal in your state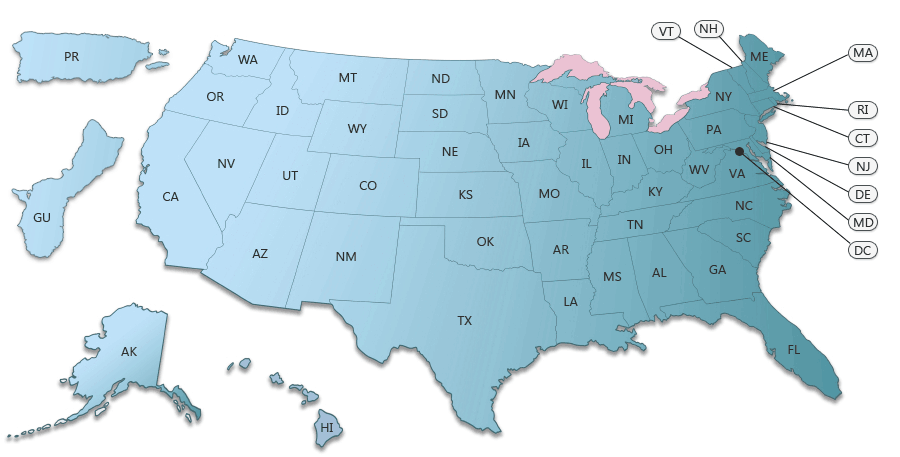 Back To Index
The biggest trap is the easy approval process without any credit check. Cash-strapped borrowers get tempted by these loans and get entangled with high-interest short-term loans.
Here are a few other ways how payday loan companies trap borrowers.
Charge sky-high interests - Several payday loan companies don't follow the state laws, and they charge sky-high interests. For example, in California, the maximum loan amount a borrower can get is $300, and the APR can go up to 459%. But many lenders issue loans up to $1000 at a 500% interest rate. Moreover, rollovers are not allowed in this state. But many lenders don't follow this rule and charge fees for rollovers. Rollovers increase the loan amount, and the compounding interests put an additional burden on borrowers.

Make false threats - Tribal Payday loan companies are illegal in the country. They follow tribal laws and charge exorbitant interest rates. When borrowers fail to make payments, tribal lenders threaten to sue them or call their employers, which is illegal. Unfortunately, borrowers are not aware of this fact, and they pay a massive amount to avoid legal hassles.

Sometimes, lenders ask you to make payments on a loan you have never received. They claim that you have received money and need to make payments. If you don't make an immediate payment over the phone, they will file a lawsuit against you.

Force you to pay overdraft fees - The biggest weapon in the hands of Payday loan companies is the ACH authorization through which they can withdraw money from borrowers' bank accounts, and they take full advantage of it. Without considering the borrower's financial condition, they withdraw cash until nothing is left in the account. Thousands of borrowers have to pay overdraft fees due to this problem.
Back To Index
Most people can't pay back lenders within two weeks, and they get trapped into a vicious cycle of debt. But they can get out of it in the following ways.
Contact Payday Loan Equity Alliance Members and get a free consultation on repaying loans.

Understand the payday loan laws and strategies to stop predatory lending practices.

Close your bank account and create a new one to stop further withdrawals.

Discuss the pros and cons of payday loan consolidation and settlement with Payday Loan Equity Alliance Members to choose the best repayment plan.

Select a payday loan debt relief program and start making payments.
Back To Index
Inform your friends and family about the fraudulent activity. Ask them to ignore calls from lenders.

Inform the HR and the Payroll department to stop voluntary wage garnishment.
If you still need more help, contact Payday Loan Equity Alliance members with the following details:
How much do you owe and to whom?
How much have you paid to lenders?
How much did you borrow?
How did you get the loan? (Internet, storefront, etc.)
Back To Index