California debt settlement - Get best debt help now
Are you one of those people who stay in California and receive collection calls every day? Wondering how can you finally get out of debt and put an end to these calls? If yes, then it's high time you enroll into a debt settlement program.
How much can we save you?
California debt settlement - 8 Elements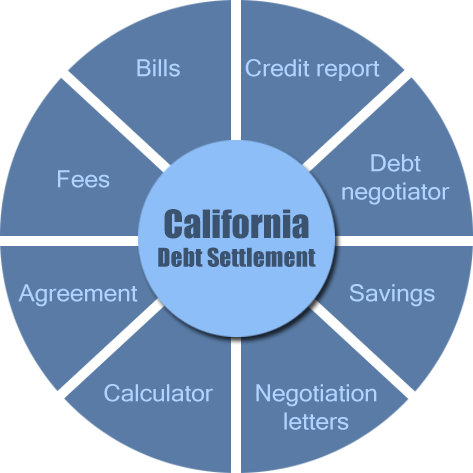 How California debt settlement works
This program basically works in 8 simple steps and these are:
1
Debtor talks with the debt negotiator
Debtor gives a snapshot of his/her total financial situation to the debt negotiator. Both of them ask various types of questions to each other.
2
The debt negotiator thinks about a solution
After getting the total financial picture, the debt negotiator starts thinking about the possible solutions and suggest to settle debt in CA.
3
The debt negotiator explains the whole process
He explains how to settle unsecured debts in California. Both the pros and cons are properly explained.
4
The agreement is signed by the debtor
A written agreement is given to the debtor who reads it and finally puts down his/her signature.
5
The California debt settlement program begins
Debtor starts saving an amount in a dedicated account set up by the negotiator. It is simply not possible to negotiate without any amount in hand.
6
The negotiation process continues
The California debt settlement company starts calling creditors one by one. They use various tricks and tactics to convince creditors for a reduction in the outstanding balance.
7
A deal is made with creditors
Creditors agree to reduce outstanding balance. Debtor is notified about it and thereafter a settlement agreement is signed.
8
Payment is done and debt falls from the shoulder
Finally, creditor is paid the negotiated amount and the account is closed.
Is OVLG the very best amongst CA settlement companies?
It won't be wrong to say that OVLG ranks first in the list of California debt settlement companies and that's because:
1

It is registered with the California State Bar Association

2

It is also a member of California Chamber of Commerce

3

It has received excellent reviews and 5 star rating in Trustlink

4

It gives 100% refund to clients who are not happy

5

It offers settlement services in California at affordable fees

6

It uses all the laws to safeguard clients

7

You can get free consultation from California attorneys

8

You've to pay flat affordable fees.
Types of debts OVLG manages
California debt settlement - 4 Pros and cons
Pros
It saves you thousands of dollars
Collection calls are likely to cease
Debts are resolved very fast
You'll have extra money for other needs
Cons
Creditors may agree only when you're past due
Saved amount may get considered as income
You need to save in order to settle
Your credit score will fall
California debt settlement laws - A brief snapshot
---
Wait a minute. Before you decide to work with us or any other settlement company, make sure you check out the main provisions of California Debt Settlement Consumer Protection Act. Remember, it's important to know what protections and rights you have.
Settlement companies will get paid on the basis of consumers' savings.
They can charge only 15% of the total saved amount
They should provide extensive disclosures to consumers
They should give a written agreement plan to consumers
They should send reports to consumers at least every 6 months
California debt relief companies - What they can't do
---
California Debt Settlement Consumer Protection Act prevents debt relief companies from indulging into the following kinds of activities:
1

They can't charge any penalty if consumers opt out of the program

2

They can't give any wrong information on California debt help program

3

They can't get into deceptive practices

4

They can't charge upfront fees before negotiating or settling any debt.

5

They can't change the correct mailing address in creditors' statements
What if a CA debt relief company violates the law?
---
If debt settlement companies in California violate the laws, then they can be in big trouble due to the following reasons:
1

Consumers can file a civil suit against the company

2

The agreement will be terminated if an unauthorized fee is charged

3

The company will have to refund fees within 5 days of receiving violation notice

4

Consumers can get up to $5000 for each violation of law
* In case of criminal violations, consumers can get up to $10,000 for each violation of law.
6 Collection laws to know before settling debts
---
Want to save yourself from collection harassment? Eager to know about your powers to fight with collectors at the time of settling debts? Have a look at the 6 California fair debt collection laws that empower you as a consumer.
1

Debt collectors can't contact you when you've an attorney

2

They can't publicly embarrass you for debts

3

They can't collect judgment if a lawsuit was not properly served

4

They can't issue false statements just to collect debts

5

They can't misrepresent themselves or call you repeatedly

6

They can't talk with you in a obscene language
California Consumer help desk
---