Debt consolidation in California helps you revamp your ruined financial house by paying off what you owe with an affordable monthly payment. This California debt relief option is extremely good since it gives you the option to make only one payment for multiple bills.
California debt consolidation gives you the option to pay off only the unsecured debts and these are:
Back To Index
Well, you have 3 options in your hand for consolidating bills in California. The first one is California debt consolidation programs. The second one is California debt consolidation loans. And, the third one is debt consolidation california nonprofit. Check out the salient features and a brief comparison between the 3 options below.
| | Consolidation program | Debt consolidation loan | Debt consolidation non-profit |
| --- | --- | --- | --- |
| How it works | It replaces multiple monthly payments with one | It dissolves your present loans and leaves you with only one | It works like normal consolidation program |
| What about fees | As per the industry standard | - | It charges nominal fees |
| How long you need to pay | Between 2-5 years | Between 2 and 20 years | Between 2 -5 years |
| What about credit score | It won't hurt your score | It will hurt if you can't pay off loan | It won't hurt |
Back To Index
Yes. There are licensed debt consolidation companies in California. OVLG is one of them. It is registered with the California bar Association. Before enrolling in a program, always check if a company has the license to offer debt consolidation services in California. Check out the official website thoroughly and find out if they have a license number or a certificate. A licensed company will always follow the federal and state laws. There are less chances of getting scammed.
Back To Index
You can get loans from various sources in California like banks, financial institutions, credit unions, and peer-to-peer lenders. However, if you want to qualify for the cheapest interest rate, then go for California credit union debt consolidation. This is because state credit unions charge a very low interest rate for personal and consolidation loans. Some credit unions charge interest rate as low as 3.90%.
Back To Index
Debt consolidation San Diego programs are available to its residents both online and offline. OVLG offers San Diego debt consolidation programs online. You can consolidate your multiple bills within a few minutes to make your financial life stable once again. Just give a call at 800-530-OVLG to know how you can go ahead.
Back To Index
Just like in San Diego, debt consolidation programs are available in Temecula California. You can put all your bills in a single monthly payment plan and get rid of debts within 3 and 5 years.
Back To Index
Well, state of california debt consolidation programs don't hurt your credit score as long as you pay off the entire debt. However, if you stop making payments, then the new agreement with your creditor will become null and void. There will be a sharp decline in your credit score.
Once you have completed the debt consolidation california program, ask your creditors to mark your accounts as 'paid in full.' This will create a positive impact on your credit report and score.
What we can say about these 3 California debt relief options.
Debt consolidations program in California - Best as it doesn't bring fresh liabilities.
Debt consolidation loans in California - Bad as you can lose properties.
Non-profit debt consolidation in California - Good if you can select the right company.
Back To Index
Pros
It lowers monthly bill amount
It lowers interest rates
It reduces the number of creditors gradually
It simplifies the bill payment process
It helps you avoid getting delinquent on debts
It helps to reduce the number of collection calls
It helps you to do away with late fees and penalties
Cons
You may pay more if the repayment term is too long
You may lose the roof above your head
You've to stop making impulse purchases
Back To Index
OVLG ranks amongst the best debt consolidation companies in California. In fact it beats other companies because of the following factors: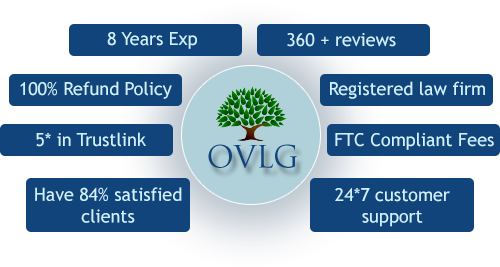 Back To Index
Client satisfaction level:
Back To Index
Don't pay any upfront fee
Check if creditors have accepted payment plan
Go through the reviews posted online
Read the fine print of the agreement
Check if creditors are receiving payments
Back To Index
1
California debt negotiation:
This option helps to cut down the principal amount and disburse a lump sum payment to creditors.
2
California debt management:
This option helps to cut down interest and disburse payments amongst creditors.
3
California bankruptcy:
This option helps you pay off debts by liquidating your non-exempt assets.
4
California credit counseling:
This option helps you pay off your unpaid bills through smartly chalked out money management plans.
Back To Index
You can opt for debt consolidation in both North and South California. OVLG offers services in these places too. So, if you live in these places and are really interested to consolidate debts here, then feel free to contact us. We will try our best to help you.
It is better if you acquire knowledge about California debt collection laws since it will be easier for you to make a decision regarding debt payments. You can prioritize your debts and decide which ones need to be included into the program.
Consolidation is slightly better than settlement as it doesn't harm your credit score. But settlement will hurt your credit score little but. But settlement is better than consolidation when you want to save on principal amount.
Undoubtedly, the 2 most popular California debt relief programs are debt settlement and debt consolidation owing to the great benefits they offer to consumers. Both the options help you to save money and get out of debt conveniently.
If you want to get debt relief in California, then compare the pros and cons of all the programs minutely. This will help you to choose a program that suits you the best. You can also call 800-530-OVLG to know how to get credit card debt relief in California.
There is no doubt that consolidation is better than bankruptcy since the latter will reduce your chances to qualify for mortgage as it drops your credit score by more than 200 points. Besides, it will make your credit report look dirty. But consolidation.
Once you start paying back creditors, they'll feel less irritated and give up their plans to sue you. In a debt consolidation program, you're paying off the debt in full. So, creditors don't have any grudges against you. Most people think that creditors are desperate to file lawsuits and garnish wages. But this is not true. Lawsuits are expensive. Plus, there are lots of legal hassles. Creditors are least interested in walking on that path when you repay your bills through credit card debt relief programs in California.
Do whatever you can to make creditors mark "paid in full" status on your credit report. This will help to protect your score. But your job doesn't end there. Even if your creditors update your credit report as 'paid in full', then also you need to be careful when it comes to managing finances in the future. Repay your bills on time every month to build a positive payment history. Stay within your credit limit to lower your credit utilization ratio. And, check your credit report periodically to avoid any expensive discrepancies.
Back To Index
---
State Attorney General Phone Number: (916) 445-9555
Public Service Commission Phone Number:
(415) 703-2782
FTC Address:

Western Region Federal Trade Commission 901 Market Street, Suite 570 San Francisco, CA 94103
Western Region Federal Trade Commission 10877 Wilshire Blvd., Suite 700 Los Angeles, California 90024

FTC Toll Free:

877-FTC-HELP (382-4357)

FTC Website Url:
CFPB Toll Free:

CFPB E-mail:

info@consumerfinance.gov

whistleblower@consumerfinance.gov

CFPB Website Url:
---
Back To Index
Ready to consolidate debt in California?
Call us at (800) 530-OVLG to get help