Wiki Article Picture: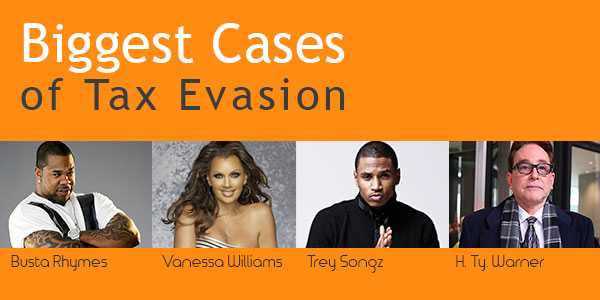 Did you try to avoid paying the total tax amount by illegal means? If so, then it would be considered as tax evasion by the IRS and it has severe repercussions.
How people can try for tax evasion
Giving false information about income
Using offshore tax evasion strategies
Giving false facts about deductions
Filing tax returns at the wrong time
Intentionally overstating expenditures
Not filing income tax returns when having taxable income
Biggest cases of tax evasion in the country
1. Trey Songz was slapped with a tax lien of $750,000 for not paying tax on his 2013 income. He had $748,870.08 debt.
2. Vanessa Williams was slapped with $369,249 tax lien for the tax she didn't pay in 2011.
3. Busta Rhymes was imposed 2 tax liens - (i) $611,000 for 2008, (ii) $178,000 for 2012. He needs to pay almost $800,000 for his unpaid tax.
4. William Berroyer suffered severe physical injuries when he fell over a telephone cord when settling a tax bill of $60,000. He filed a lawsuit against the IRS and received $862,000 as compensation. Plus, his tax bill was eliminated.
5. H.Ty.Warner was found guilty to tax evasion of nearly $25 million. He escaped imprisonment due to his charity donations. He accepted to pay $27 million for unpaid tax and interest. Plus, he needs to pay $53 million as a civil penalty.
6. A man in the District of Columbia owes $1.7 million in unpaid tax.
7. A construction company in New York owes $8.2 million in unpaid tax.
8. A communication company in Florida owes the state $2.5 million in unpaid tax.
9. A donut chain owner in New York owes $2.2 million in unpaid tax to the state.
10. Lauren Hill served in Connecticut prison from May 2013 to October 2013 for not paying $1 million in tax.
Tax evasion and tax fraud - Is there any difference?
. Anyone who commits tax fraud can be slapped with criminal and civil penalties. For instance, you can be imposed with only civil penalties instead of criminal penalties for committing tax fraud.
Usually, it's tough for the government to prove if anyone has committed tax fraud. They have to prove to the court that the taxpayer has cheated the government intentionally. This is why the government tries to impose civil penalties upon the taxpayer for not paying the full tax.
Tax evasion is a part of tax fraud. It is mainly used in the criminal context. .
How much you have to pay
The government of this country slaps severe penalties on the face of tax offenders. It is estimated that around 3 percent of taxpayers skip filing their income tax returns. Those who don't owe any taxes are likely to get slapped with a small penalty. But, those who owe tax and still don't file income tax returns are committing a criminal offense. The government may levy a penalty of $250,000 for individuals, $500,000 for corporations and a prison sentence for 5 years.
If it is proved that someone intentionally skipped filing income tax returns, then he/she is in big trouble. The IRS can pursue a felony conviction for tax evasion. The person may end up paying a fine of $100,000 and stay in jail for 1 year.
If 2 individuals hatch a plan to defraud the US or any agency, then they can be imprisoned for more than 5 years or be fined for $250,000 or both.
Some more penalties
Source: Taxwhistleblower.com
How IRS can try to extract money from you
Wage garnishment
Imposing tax liens
Levying bank accounts
Taking refunds that is due to you
How to avoid paying heavy penalties
The best way to avoid facing a penalty is to file income tax returns on time each year. I know that sometimes it isn't possible to pay the full tax amount. In such scenarios, you can inform your financial situation to the IRS before the payment deadline. They might agree to give you an alternative repayment plan. The IRS may help you pay off your debt through an installment plan. In this repayment plan, you need to pay a small fee and fill out a form online or offline. You'll be given a monthly payment plan to eliminate your tax debt.
If you have always paid your tax on time, and your debt amount is less than $10,000, then the IRS may be happy to offer you an installment plan. You can also request an extension of time to file your income tax returns since there are insufficient records. You need more time to prepare an accurate tax return.
There is yet another option for you, and this is Offer in Compromise. Here, you admit in front of the IRS about the amount you can pay and request to forgive the rest. Of course, you need to negotiate with the IRS and may need the help of a tax attorney. You can make a single lump-sum payment, or you can offer a repayment plan for 2 years. The overall amount you pay will be less than the total amount owed. In the case of a lump-sum compromise, you need to pay 20 percent of the tax debt in advance.
If you are facing an extremely tough situation, the right move is to call the IRS office and elucidate your situation. If you have filed your tax returns late due to a natural disaster or hospitalization, then fill out the form 843 and inform the IRS about it. They may agree to eliminate fees and penalties.
Will you face criminal charges for filing your returns late?
. But, the IRS won't impose criminal charges for filing your income tax returns late. And, if you file your returns before the IRS catches you, then they treat you sympathetically. In case, you haven't filed your income tax returns for several years; it's better to file missed returns late.
What are your chances of getting audited?
. Usually, unusual tax forms are audited. For instance, if your claimed deductions are considerably higher than your income, then the tax form may get audited. The IRS will increase your total tax if they find any mistake on your return.
The bottom line
Remember, the IRS has over 3000 agents to investigate tax evasion. They can get access to your tax returns, review all the financial information, and seize assets. So, if you have deliberately increased deductions and reported a low income, then it's best to amend your income tax return. This would help you avoid criminal prosecution.
See more: Guide to the unemployed: Get organized for the tax season