Wiki Article Picture:
Student loan debt has now become a big threat to our country's economy.
As per the 2015 student loan debt stats, the debt scenario back then was somewhat like this:
Nearly 68% of students had student loan debt with an average student loan debt per graduate stood at near about $30,000.
Now, as per the student loan debt stats 2017, the overall student loan debt amounts to $1.4 million.
That's quite alarming!
This means most of our students are carrying a big cannon on their back, and will not come out stress-free in the end, even with a successful college degree!
Top 10 states with maximum student loan debt as of 2017:
| States | Debts as of 2017 (Avg. debt per graduate) |
| --- | --- |
| New Hampshire | $27, 167 |
| Pennsylvania | $24, 622 |
| South Dakota | $23, 641 |
| Minnesota | $21, 665 |
| Connecticut | $21, 348 |
| Delaware | $21, 259 |
| West Virginia | $21, 189 |
| Wisconsin | $20, 104 |
| New York | $19, 946 |
| Michigan | $19, 593 |
With respect to the data of 2015, the average debt per graduate in the top 10 states might have decreased in 2017, but things have worsened if you consider average debt per graduate on a nationwide basis!
The average debt per graduate in the USA as of 2017 is showing $31674 approx.
Total debt is $1.4 trillion, and the total number of grads with debt is 44.2 million!
Here's a graphical representation of how student loan debt is gradually increasing in our country: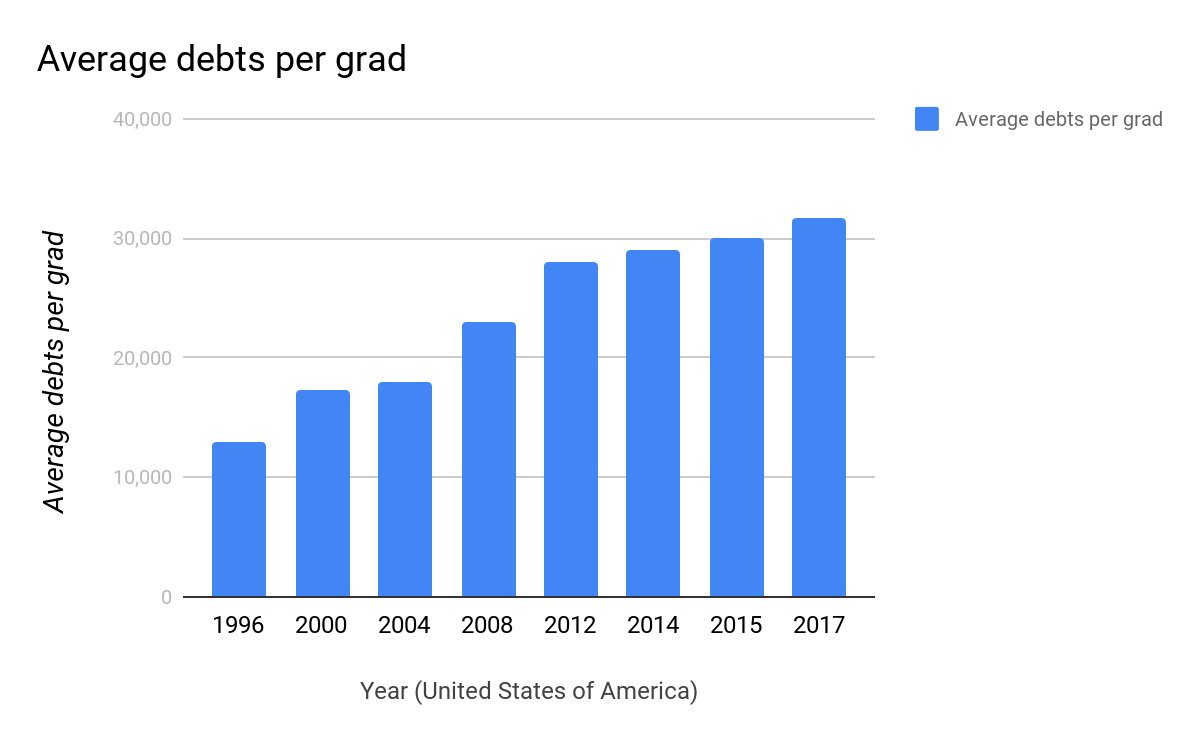 So, we can pretty much estimate that in 5 years from now, there are high chances that student loan debt per graduate will stand at somewhere between $35,000 to $40,000!
Below is a graphical representation of student loan debt as per its final standing in the fiscal year 2017 - Quarter 3:
The graph shows student loan debt divided among people of various age groups. The line chart is the number of borrowers (in millions), and the columns represent the debt amount (in billions) carried by each age group.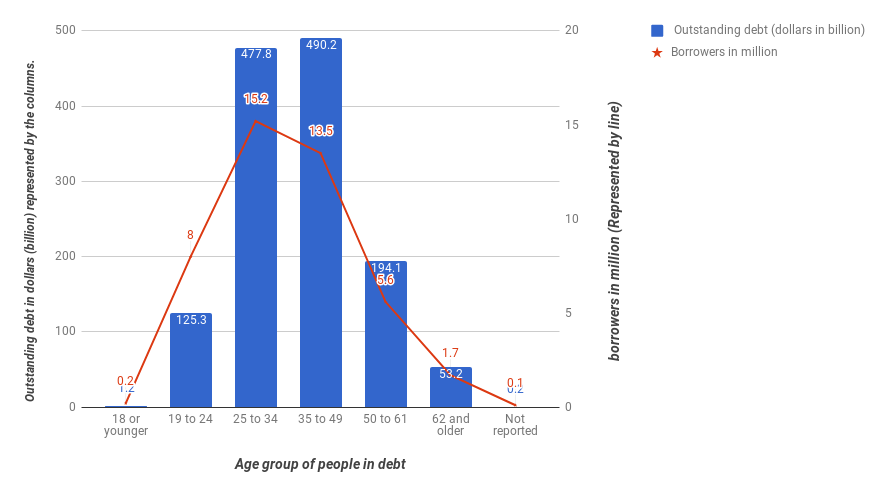 Source: www.studentaid.ed.gov
Where do the schools and colleges stand in this peaking student loan debt?
Below is a chart showing the names of top 10 universities and colleges suffering from maximum debt in each state.
| School name and state | Type of school | Average debt per graduate | Percentage of graduates with debt |
| --- | --- | --- | --- |
| Marylhurst University- Oregon | Private | $51,833 | 100% |
| Metropolitan College of New York | Private | $46,889 | 95% |
| Alvernia University- Pennsylvania | Private | $43,645 | 84% |
| Cabrini University- Pennsylvania | Private | $40,831 | 94% |
| Delaware Valley University- Pennsylvania | Private | $40,018 | 84% |
| Lincoln University- Pennsylvania | Public | $39,569 | 86% |
| Texas Southern University | Public | $39,452 | 93% |
| University of Holy Cross- Louisiana | Private | $39,242 | 91% |
| National University- California | Private | $39,210 | 74% |
Types of loans and their debt stats:
Below is a chart showing the total student loan debt distributed as per loan types:
| Loan type | Debt in billion | Portion of total debt | Borrowers in million |
| --- | --- | --- | --- |
| Unsubsidized Stafford | $424.0 | 33.6% | 27.1 |
| Grad Plus | $50.0 | 3.98% | 1.00 |
| Parent Plus | $74.5 | 5.90% | 3.30 |
| Perkins | $8.00 | 0.63% | 2.70 |
| Consolidation | $439 | 34.8% | 12.0 |
What the student loan servicers got to say about the student debt crisis:
Navient, probably the leader in student loan services, has a very interesting insight to share.
They are saying that student loan servicers are the last stop for a borrower drowning in debts.
Navient is saying that student loan debt is a symptom and not the cause!
Navient's data show that the success rate for them in helping borrowers to avoid defaulting on student loan repayment is nearly 9 out of 10.
But, the main problem according to the servicers is that 90% of borrowers, who default, don't take help or don't reach out to the servicers with their problem. Guess this is the sole reason for the rising student loan debt in our country.
Navient believes that if any struggling federal student loan borrower engages with their servicers during loan repayment, then he/she will get the most convenient options to repay the loan!
As of October 6th, 2017, a lawsuit has been filed against Navient that alleges the company of harming countless student loan borrowers by peddling risky and expensive subprime loans that Navient knew were likely to default.
To which Navient says that the allegations are completely unfounded and the case was filed without any review of Pennsylvania (Tops the charts as the holder of colleges with maximum student loan debt in the country) resident's customer accounts!
But John.F. Remondi, CEO of Navient says that:
"Above all else, let's stop playing politics with the issue of student debt. The young are the future of our country.
We should be working as one voice of encouragement for the millions who have received financial assistance from the American taxpayer to pursue higher education."
Source: A Medium Corporation US.
What the politicians got to say about the roaring student debt amount:
Fox business news published an article circulating the roar that 42% of Americans want Trump to forgive their student loan debt!
But it will be a very difficult step to take, as most of the students who have already repaid their student loan in full won't step back if Trump decides to forgive student loans for many.
Then again there are more parent loans than student loans, are there any chances that these loans will be forgiven too? That remains a question to which the nation is tight-lipped!
Senator Bernie Sanders on student loan debt:
Senator Bernie Sanders said on 10th of October 2017 that it is now time we should make a big move to make public colleges and universities tuition free!
Sanders said the question is not only about the normal 4-year university or college. The rule should be applied to community colleges, vocational schools, and apprenticeships.
That's because our country needs highly skilled electricians, plumbers, welders, craftsmen or electricians, and not only degree holding scholars!
Sanders concluded his speech at Castleton University, Vermont by saying:
"But the truth is, like every other great struggle in American history - workers' rights, civil rights, women's rights, gay rights, environmental protection- we will only make gains if we are prepared to fight for them.
Working together, we can make public colleges and universities tuition free, and lower the oppressive burden of debt that afflicts far too many young people.
Thank you very much."
Senator Tim Kaine on student loan debt:
On the other hand, as reported by Huffington Post, when Senator Tim Kaine was asked whether or not our country is facing student debt crisis, he said that we are actually going through a phase of upside down student loan debt scenario.
Senator Tim Kaine quotes:
"An estimated 60% of Virginia college students graduate with student debt, and the average debt load in Virginia now tops $26,000 per graduate.
Nationwide, Americans owe more than $1.3 trillion in student loan debt, overtaking credit cards and auto loans as the country's leading source of non-mortgage debt, according to the Federal Reserve.
College affordability is an issue our country is grappling with at the national level, state level and especially at the family level. We need to get this right so that students can afford to get higher education and have a successful start to their careers without being weighed down by student loan debt."