Student loan debt stands at $1.748 trillion in 2022. About 69% of undergraduates borrowed student loans in 2019 and graduated with an average debt of $30,062. This includes both federal and private student loans. Parents are also not left behind.
But the situation has changed a lot.
43.0 million borrowers have federal student loan debt.
The average federal student loan debt balance is $37,667, while the total average balance (including private loan debt) may be as high as $40,274.
Less than 2% of private student loans enter default as of 2021's fourth financial quarter (2021 Q4).
The average public university student borrows $32,880 to attain a bachelor's degree.
The outstanding federal loan balance is $1.620 trillion and accounts for 92.7% of all student loan debt.
Top 5 states with highest and lowest average student debt
Highest debt states
Lowest debt states
New Hampshire
$39,928
Utah
$18,344
Delaware
$39,705
New Mexico
$20,868
Pennsylvania
$39,375
California
$21,125
Rhode Island
$36,791
Nevada
$21,375
Connecticut
$35,853
Wyoming
$23,510
Source : The Institute for College Access and Success
Student loan debt statistics by loan program
| | | |
| --- | --- | --- |
| Direct loans | $1.38 trillion | 37.2 million borrowers |
| FFEL loans | $225.7 billion | 9.9 million borrowers |
| Perkins loans | $4.2 billion | 1.5 million borrowers |
| Total (all federal) | $1.61 trillion | 43.4 million unduplicated borrowers |
Student loan debt statistics by loan type
| | | |
| --- | --- | --- |
| Stafford subsidized | $290.9 billion | 30.1 million borrowers |
| Stafford unsubsidized | $562.5 billion | 30.1 million borrowers |
| Stafford combined | $853.4 billion | 34.3 million unique recipients |
| Grad PLUS | $90.6 billion | 1.6 million borrowers |
| Parent PLUS | $104.8 billion | 3.7 million borrowers |
| Perkins | $4.2 billion | 1.5 million borrowers |
| Consolidation | $553.3 billion | 11.2 million borrowers |
Data resource - https://studentloanhero.com/student-loan-debt-statistics/
Student loan debt statistics based on the type of school
According to the type of school a student attends, here is a deeper look at how they incur debt:
In 2020, 55% of bachelor's degree graduates from four-year nonprofit public and private universities had debt from student loans.
In 2020, four-year public and private nonprofit institutions' average debt at graduation was $28,400, down $400 from 2019.
The most recent data from an April 2019 study from 2016 shows that 66% of graduates from public universities have debts, with an average loan amount of $26,900.
In 2016, 68 % of graduates from for-profit, private universities took out loans, borrowing an average of $31,450.
In 2016, 83 % of graduates from for-profit universities incurred debt, with an average loan amount of $39,900.
In the academic year 2020–2021, parents and students borrowed a projected $95.9 billion, with private and non-federal loans accounting for 13% of that total.
Compared to 12 % of students who attended public universities and 14 % who attended nonprofit institutions, 48 % of borrowers who attended for-profit colleges fail within 12 years.
(Data via CollegeBoard and the Institute for College Access and Success)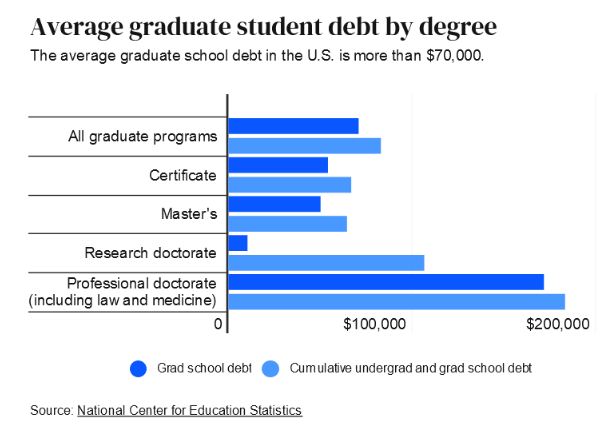 Age-wise statistics of student loan debt in 2022 - Quarter 2
Understandably, younger folks are the ones that owe the most on their school loans. About $500 billion in federal student loans are held by borrowers between the ages of 25 and 34; a large %age of these borrowers owe between $10,000 and $40,000.
But people continue to carry their student loan debt far into their middle years and beyond. More than $620 billion in student loan debt is held by borrowers aged 35 to 49. The majority of the borrowers in this cohort had debt balances of greater than $100,000.
Even retirees are affected by student loan debt since there are 2.4 million borrowers who are 62 years of age or older and owe $98 billion in student loan debt.
| Age group | Amount owed | Number of borrowers |
| --- | --- | --- |
| 24 or younger | $110 billion | 7.6 million |
| 25 to 34 | $500 billion | N14.9 million |
| 35 to 49 | $622 billion | 14.4 million |
| 50 to 61 | $282 billion | 6.4 million |
| 62 and older | $98 billon | 2.4 million |
Age-wise graphical representation of student loan debt
Source: https://studentaid.gov/data-center/student/portfolio
Student loan debt scenario with respect to gender in 2022 - Quarter 2
Federal student loans are accepted by 61.4 % of female bachelor's degree holders.
Male bachelor's degree holders take 52.2 % of the federal loans offered.
Female students with associate's degrees are 49.9% more likely than their male counterparts to take out federal student loans.
Women borrow 4.27 % more in student loans than men with bachelor's degrees.
Associate's degree holders who are female take out 24.9 % more in student debt than those who are male.
Student loan debt statistics (as of july 2022)
While the overall amount of student loan debt will still increase in 2022, the pace of growth each year has steadily decreased over the previous ten years.
The first financial quarter of 2022 had the lowest rate of growth in the 21st century for the total national student loan debt, a rise of 1.70 % YoY.
From 2021 Q4 to 2022 Q1, there was a 0.84 % quarterly growth, 59 % less than the average quarterly increase since the first quarter of 2006.
By 2022 Q1, the quarterly rate of rising has increased by 154.5 % from the first quarter of 2020.
92.7 % of the student loan debt in 2022 Q1 was federal; private borrowers owed 7.3%.
Federal student loan debt rose 0.83 % in 2022 Q2 alone.
The first financial quarter saw a 0.27 % reduction in federal student loan debt, the most significant quarterly drop in at least ten years.
In Q1 2022, the average federal debt decreased by $99.00; however, Q2 2022 saw an increase of $654.
Between the first quarters of 2017 and 2022, the federal portion of the outstanding student loan amount climbed by 2.39 %.
Data source - educationdata.org
The impact of a pandemic on student loan debt
The average student loan debt increased by 4.5% due to the pandemic situation. The nationwide student loan debt balance increased by about 8.28% last year, 2020.
About 24% of student loan borrowers, who attended for-profit schools, defaulted on loan payments compared to only 7% of borrowers who attended nonprofit institutions.
Between the second and third quarters of 2020, federal student loan repayments decreased by 82%. And, student debt in forbearance increased by 375%.
Only 8% of the federal student loan debt borrowers are in school.
About 20 million federal student loan borrowers received debt relief due to the CARES (Coronavirus Aid, Relief, and Economic Security) Act between the second and third quarters of 2020.
Federal student loan borrowers are presently on interest-free payment pause from March 13, 2020, and will continue until September 30, 2021. However, this does not apply to private student loans. Currently, private student loan lenders vary in their approach.
The federal government intervened to ease student loan repayment during this period of high unemployment and financial turmoil, beginning with the Coronavirus Pandemic in early 2020. The federal government decided to momentarily forbear all federal student loans to save college graduates money.
This indicated that all payments for federal student loans were paused in their entirety. This was planned to end in January 2022. To offer graduates more time to resume their repayment plan, the Biden administration moved the deadline to May 1, 2022. Federal student loans would not collect interest or demand monthly repayments from borrowers during this deferment period.
Financial relief measures till 2022
The process of forgiving student loans seems complicated by murky procedures and mistakes. Often, borrowers are not aware that they qualify for student loan forgiveness. Additionally, loan servicer incompetence or inaccurate information results in denials for borrowers who ought to be eligible.
Since November 2020, 2.5% of Public Service Loan Forgiveness (PSLF) requests have been granted.
In the initial year of the program, 0.32 % of applicants were accepted.
Based on their work status, at least 1.345 million delinquent student loan borrowers are qualified for the PSLF.
Among qualified borrowers, the average loan balance is $99,063.
Federal student loan forgiveness through PSLF totaled $10.513 billion, or 0.65% of the outstanding federal student loan amount.
With the Teacher Loan Forgiveness Program, up to 27,000 teachers have effectively had their student loan amounts forgiven in whole or part.
Under Teacher Loan Forgiveness, $253.8 million in federal student debts have been forgiven (0.02 % of the outstanding federal student loan sum).
The federal government forgives student debts at about $250 per student borrower.
Student Debt Scams on the Rise
Media outlets started receiving more complaints regarding student loan debt scams in late 2020. Such allegations are prevalent in desperate situations (read: carpetbagger), and the frauds will continue as long as there is a student debt issue.
Assurances of debt forgiveness are a common deception, as are offered for phony refinancing and consolidation that charge exorbitant up-front costs.
The US Department of Education cautions against ever requesting someone's FSA ID password. They utilize your FSA ID, which functions like an electronic signature, to sign legally binding papers online. Never allow anyone to create an FSA ID for you or give them your FSA ID password.
If you think you've been conned, take these instructions in order:
Right now, change your FSA ID.
Tell your student loan servicer to cancel any third-party authorization or power of attorney agreements by contacting them.
To stop paying any student debt relief firms, contact your bank or other financial institution.
Report identity theft to the Federal Trade Commission and ask for help developing a recovery strategy.
Report suspicious behavior by filing a complaint with the Federal Student Aid Feedback System.
Student loan debt and the CARES Act
It was implemented to lessen the financial burden of the epidemic. A suspension on federal student loan payments and collection efforts was one of the provisions, and it is presently in effect until August 31, 2022.
According to the most recent report from the Federal Student Aid (FSA) Office in the United States, as of March 2022:
Over 99 % of the amounts on over 25 million Direct Loan borrowers who are in forbearance are under the CARES Act.
The forbearance status of Direct Loans amounts to almost $1 trillion.
Less than 500,000 Direct Loan borrowers are in repayment status and have chosen not to take advantage of the CARES Act's flexibility.
The amount of student loan debt being repaid fell by 82 % between the second and third fiscal quarters of 2020, while the amount being forbearing rose by 375 %.
The %age of student loans in forbearance decreased by 0.44 % between the third and fourth fiscal quarters.
Additionally, during that time, 33.3 % more debts were due for repayment.
Loans in default decreased by 1.79 % less overall.
Until September 2022, 56.65 % of all federal student loan debt is still on forbearance.
48.8% of debtors, or 22.2 million people, have debts that are in forbearance.
The number of borrowers with debts now being repaid has decreased from 40.1 % in the second fiscal quarter to 400,000, or 0.88 %, of all borrowers of federal student loans.
Students still enrolled in school are responsible for 8% of the total student loan debt.
A grace period accounts for 2.81 % of all federal student loan debt.
Loans with failed payments make up 7.8% of the national debt.
Data - https://educationdata.org/student-loan-debt-statistics
Student loan repayment statistics
Federal student loans
Borrowers have the option of deferring or forbearing payments if they are unable to make them. Although interest accrues typically during these times, borrowers with subsidized loans are not responsible for the interest that builds up while the loan is in deferral.
2020 saw a significant increase in the number of debtors in forbearance as a result of the government's student loan relief program. Additionally, delinquency and default reports have been temporarily stopped by the Office of Federal Student Aid.
Student debtors of federal student loan - 6.42 million
1.17 million federal debtors are still paying interest.
Federal loan borrowers in repayment: 460,000.
3.05 million federal loan borrowers are deferring payments.
26.78 million federal loan borrowers have debts that are in forbearance.
Private student loans
Private student loan repayments may also be delayed through deferment or forbearance, although interest will continue to accumulate whether or not payments are made.
17.49% of the total outstanding private loan sum is being deferred.
2.44% of the total outstanding private student loan debt is in forbearance.
0.94% of private loans under repayment are 90 days or more past late.
Delinquencies and defaults
In the fourth quarter of 2021, almost 5% of student debt was at least 90 days past due or in default. The Department of Education reports federal loans presently in forbearance because of COVID-19 as current, which artificially lowers the number. A part of the paused loans will be listed as defaulted once regular payments begin.
The historical data in the table below shows how many borrowers are in default or overdue on their Direct federal loans. Two hundred seventy days of unpaid debt on a direct loan is the default.
| Year | 31-90 days late | 91-180 day late | 181-270 day late | 271-360 day late |
| --- | --- | --- | --- | --- |
| 2013 | 1.29 million | 0.77 million | 0.43 million | 0.31 million |
| 2014 | 1.25 million | 0.84 million | 0.46 million | 0.34 million |
| 2015 | 1.27 million | 0.83 million | 0.54 million | 0.37 million |
| 2016 | 1.3 million | 0.88 million | 0.49 million | 0.35 million |
| 2017 | 1.27 million | 0.89 million | 0.54 million | 0.37 million |
| 2018 | 1.35 million | 1.08 million | 0.59 million | 0.32 million |
| 2019 | 1.31 million | 0.91 million | 0.54 million | 0.34 million |
| 2020 | N/A | N/A | N/A | N/A |
| 2021 | N/A | N/A | N/A | N/A |
The rates of default and delinquency for private student loans have been declining over the previous ten years. Here are the past private student loan delinquency rates for loans that were currently being repaid.
| Year | 30-90 days late | 90+ days late |
| --- | --- | --- |
| 2013 | 3.47% | 3.28% |
| 2014 | 3.24% | 2.60% |
| 2015 | 2.83% | 2.17% |
| 2016 | 2.75% | 2.08% |
| 2017 | $2.63% | 1.56% |
| 2018 | 2.63% | 1.67 |
| 2019 | 2.57% | 1.32% |
| 2020 | 2.08% | 0.87% |
| 2021 | 2.22% | 0.94% |
*2021 data is as of the third quarter
Source : Federal Reserve Bank of New York, Federal Student Aid, MeasureOne
Should you relax or make efforts to pay off student loan debt?
Student loan forbearance is not a permanent solution to eliminate debt, especially if your debt amount is high. Again, if you have private student loans, there is no respite.
So, what should you do? Well, you can repay the debt as much as you can during the forbearance period and avoid paying the interest.
As mentioned, the federal government has paused interest payments until September 2021. So, you do not have to pay interest. The principal amount will also go down fast. This will help you get out of student loan debt faster. Consider this forbearance period a golden opportunity to become debt-free as soon as possible.
To pay off student loan debt (private), or if you require further help like budgeting or debt counseling, you can call (800)-530-OVLG.
Student loan debt cancelation due to fraudulent activities.
The Biden administration will forgive the debts of students who colleges misled. If students show that colleges have deceived them regarding loans or education services, they may receive total loan discharges.