Student loan debt stands at $1.7 trillion in 2021. About 69% of undergraduates borrowed student loans in 2019 and graduated with an average debt of $30,062. This includes both federal and private student loans. Parents are also not left behind.
As per data reported to US News, the college graduates from the class of 2019 borrowed about $30,062 on average. It is about $6,300 more than what the class of 2009 borrowers took out. It is an increase of about 26% in 10 years. The class of 2020 has graduated with about $30,120 in student loan debt.
A more shocking fact is that the student loan debt at graduation has increased about 76% compared to the class of 2020.
Student loan debt's growth rate is more than the inflation rate, which is about 41% in the last ten years.
As per educationdate.org, if you compare since 2003, the national student debt balance has increased by 602.5%.
Top 10 states with maximum student loan debt as of 1st Quarter 2021
States
% Of population with student loans
Average student loan balance (in $)
Washington DC
16%
54,983
Maryland
13%
42,592
Georgia
15%
41,256
Virginia
12%
38,903
Florida
12%
38,160
South Carolina
14%
38,062
New York
12%
37,639
Illinois
13%
37,460
Vermont
12%
37,284
Delaware
13%
37,221
Source: https://www.countrywideppls.com/docs/10_states_with_the_highest_average_student_loan_debt.pdf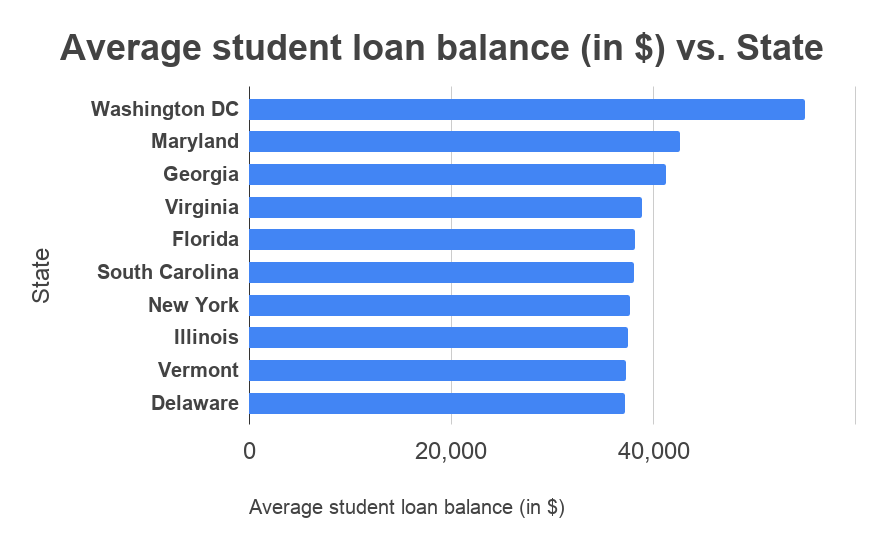 Top 10 states with a maximum average student loan debt balance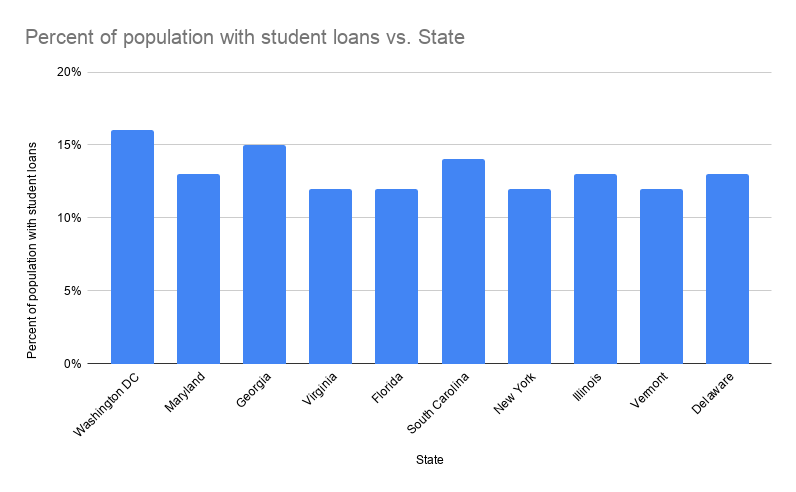 Top 10 states with the maximum percentage of people with student loan debt
Graphical representation of how student loan debt is gradually increasing in our country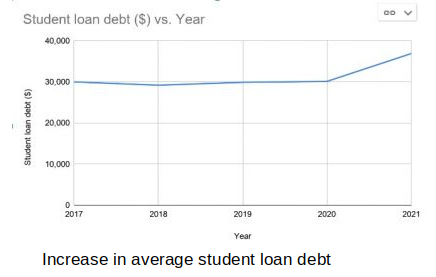 Sources:
https://thecollegeinvestor.com/32031/average-student-loan-debt-by-year/
https://educationdata.org/average-student-loan-debt-by-year
https://www.savingforcollege.com/article/average-student-loan-debt-at-graduation
Age-wise graphical representation of student loan debt in 2020 - Quarter 3
The graph shows the percentage of student loan debt divided among people of various age groups.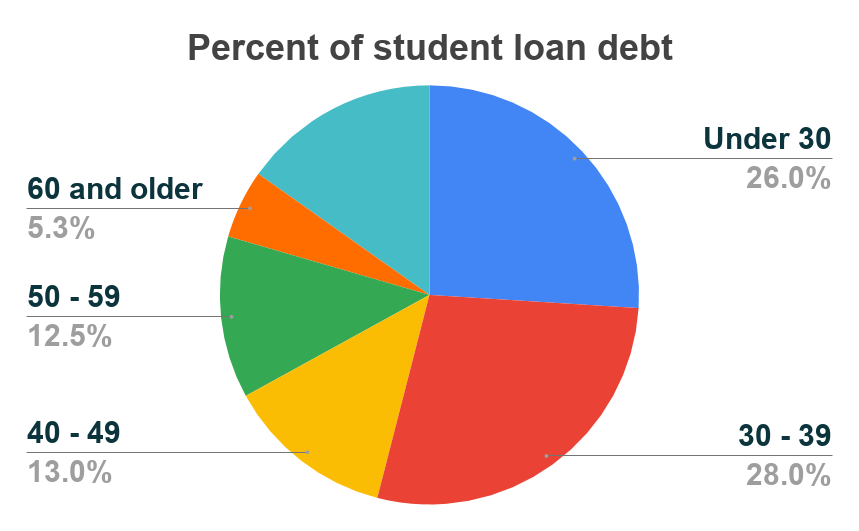 Age-wise graphical representation of student loan debt
Source: https://educationdata.org/student-loan-debt-by-age
Student loan debt scenario with respect to gender in 2020 - Quarter 2
About 58% of overall student loan debt belonged to women.
Parents of male students were keener to take out a student loan on their child's behalf.
Where do schools and colleges stand in this student loan debt scenario?
Here is a chart showing the names of the top 10 schools where the students graduated in 2019 with the highest amount of debt.
Name of school and state
Type of school
Average student loan debt
Percentage of students who took out a loan
Maine Maritime Academy, Maine
Public
56,897
95%
University of Detroit Mercy, Detroit
Private
55.097
66%
Alabama State University, Alabama
Public
54,177
89%
Bryant University, Rhode Island
Private
53,350
65%
Carthage College, Wisconsin
Private
52,809
82%
University of New England, Maine
Private
52,073
87%
National University, California
Private
50,166
71%
Nazareth College, New York
Private
49,827
88%
Drexel University, Pennsylvania
Private
49,541
67%
Mills College, California
Private
49,333
72%
Source: https://www.usnews.com/education/best-colleges/the-short-list-college/articles/colleges-where-graduates-have-the-most-debt
We can infer from the above data that the students graduating from private institutions bear a much higher student debt load.
Types of student loans and their debt stats
Below is a chart showing the total student loan debt distributed as per loan types:
Loan Type
Debt amount in billions
Borrowers in the millions
Stafford Subsidized
$285.7
29.6
Stafford Unsubsidized
$539.8
29.2
Stafford combined
$825.5
33.4
Grad PLUS
$82.8
1.5
Parent PLUS
$100.8
3.6
Perkins
$5.2
1.7
Consolidation
$552.1
11.5
Source: https://www.forbes.com/sites/zackfriedman/2021/02/20/student-loan-debt-statistics-in-2021-a-record-17-trillion/?sh=482f44731431
Current scenario as of 1st Quarter 2021
The pandemic situation is not the sole reason for the rising student loan debt crisis in 2021. Student debt had become a crisis even before COVID-19. According to the Wall Street Journal, about 1,400 student loan borrowers defaulted every day before the pandemic situation, with an average of about $34,000 student debt.
Private student loans constitute about 8.4%, and federal student loans include about 92.6% of the outstanding student loan debt.
The impact of COVID-19 on student loan debt and relief offered
The average student loan debt increased by 4.5% due to the pandemic situation. The nationwide student loan debt balance increased about 8.28% last year, 2020.
About 24% of student loan borrowers, who attended for-profit schools, defaulted on loan payments compared to only 7% of borrowers who attended nonprofit institutions.
Between the second and third quarters of 2020, federal student loan repayments decreased 82%. And, student debt in forbearance increased 375%.
Only about 8% of the federal student loan debt borrowers are in school.
About 20 million federal student loan borrowers received debt relief due to the CARES (Coronavirus Aid, Relief, and Economic Security) Act between the second and third quarter of 2020.
Federal student loan borrowers are presently in interest-free payment pause from March 13, 2020, and will continue until September 30, 2021. However, this does not apply to private student loans. Currently, private student loan lenders vary in their approach.
What student loan servicers had to say in 2020
A funding cut by the Education Department forced student loan servicers to reduce staff in the fourth quarter of 2020. In December 2020, the companies said they were not equipped to handle large numbers of calls if the 30 million student loan borrowers, whose payments were excused, were informed to begin paying again in February 2021.
Financial relief measures in 2021
Student loan forbearance until September 30, 2021.
About one-third of federal student loan borrowers can get some relief if Biden cancels $10,000 in federal student loans per borrower.
Should you relax or make efforts to pay off debt?
Student loan forbearance is not a permanent solution to eliminate debt, especially if your debt amount is high. Again, if you have private student loans, there is no respite.
So, what should you do? Well, you can repay the debt as much as you can during the forbearance period and avoid paying the interest.
As mentioned, the federal government has paused interest payments until September 2021. So, you do not have to pay interest. The principal amount will also go down fast. This will help you get out of student loan debt faster. Consider this forbearance period as a golden opportunity to become debt-free as soon as possible.
To pay off the remaining debt amount, or if you require further help like budgeting or debt counseling, you can call (800)-530-OVLG.
Student loan debt cancelation due to fraudulent activities.
The Biden administration will forgive the debts of students who colleges misled. If students can show that colleges have deceived them regarding loan or education services, they may receive total loan discharges.