Submitted by

marc

on Fri, 09/10/2010 - 15:23
The worst anxiety that bothers a consumer is creditor harassment and annoying debt collection practices.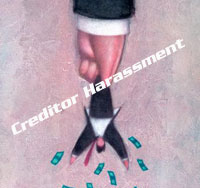 Harassments range from pestering phone calls, unlawful garnishments to social abuse showered by debt collectors in their attempts to make collection on delinquent accounts. Often intimidated debtors fail to tackle such harassments and continue to suffer with it.
If you are feeling miserable with such harassments and do not know how to deal with it, then here are some tricks you can apply to tackle harassing debt collection activities:
•Do not reveal your account number: You may be owing a large amounts, but that does not entitle your debt collectors to have access to your bank account and other information related to your finances. If you do not want the debt collectors to know your account number, then always try to make your debt payments through money order or cashier's check from a bank other than your own bank. Also monitor your account regularly and be prepared to challenge any withdrawal that has occurred without your approval.
•Do not ignore the letters and phone calls: It will be unwise to ignore all the phone calls and letters you receive from your debt collectors. If you are not sure whether you owe the debt claimed by the debt collector, then you can make a written request for debt verification within 30 days after the collector contacts you.
•Keep a track of all the debt related documents: File all the documents related to your debt accounts, including the letters and hard-copies of emails that you have received from the debt collectors as well as the copies of debt relief agreements. These will help you prove your stand in case you face any trouble related to collection of accounts that you have already paid off.
•Avoid post-dated checks: If you think sending post-dated checks to your debt collectors can keep them at bay, then you are mistaken. Many debt collectors cash such checks before time, leaving you with bounced check fees and several other unpleasant circumstances owing to insufficient funds in your bank account.
•Ask for payment receipts: Whenever you make any payment on your debt accounts, make sure the debt collector gives you a receipt of payment.
•Use certified mail: To make sure your letters addressed to the debt collectors reach them, always send your correspondences via certified mails.
•Know the law: Before you set out to deal with your creditors and debt collectors, learn about the provisions of the Fair Debt Collection Practices Act and other state laws concerning debt collection practices in your state. Knowledge of FDCPA laws can help you understand your consumer rights.
•Enroll in credit counseling: Enrolling in a credit counseling session is one of the best ways to get rid of your debts and other collection harassments. A credit counseling session can help you get enrolled in a debt management or debt settlement program so you can pay off your obligations and rid yourself of debt collection harassments faster.
•Consult a debt collection attorney: The best legal way to deal with the harassments of debt collectors is to consult a reputable debt collection attorney in your state. Under the FDCPA you have the right to take legal action against any debt collector that violates your consumer rights. And a debt collection attorney is the best person to help you restore your rights.
Simply brooding over your plight won't do you any good. Debt collection harassments need to be dealt logically and with a calm mind. High-stress interaction with creditors and debt collectors is not an easy task indeed. But a little tactfulness on your part can spare you all the annoyance you are suffering. So, while dealing with any kind of debt collection harassment, do keep the above guidelines in mind and safeguard your interests.