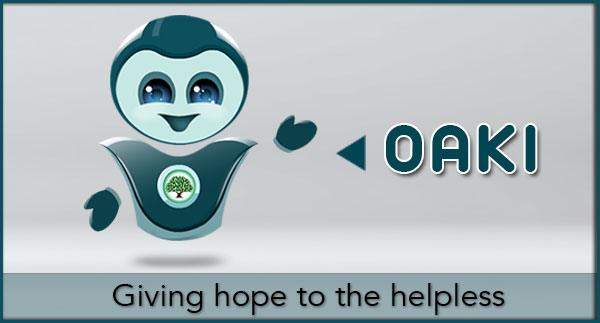 Hi!
I'm Oaki - OVLG's new mascot. I'm here to make your financial life wonderful and sexy. Ya..ya..I know you've been eagerly waiting for me for many days. And, frankly speaking, yes I'm a bit late. But, not anymore. I have finally arrived and as a penalty for being late,
"I solemnly promise to be the guardian angel of your financial life"
Being a guardian angel is not an easy task. You've to be quick-witted, sharp, kind, broad hearted and updated about everything. So, will I be. The onus is upon me to help you stand on a strong financial footing and I'll try to help you do just that in the following ways:
Protect your legal and financial rights
Offer legal and financial tips (For free, mind you)
Guide you to lead a debt free life
Help when someone tries to defame you
Solve your queries regarding our services
Suggest tricks to repair your credit
Give helpful advice regarding wills, trusts and company formation
Please, don't judge me by my shape and size. As people say, looks are deceptive and so am I. Although, I'm a super cute robot, but I can be shrewd and cunning when it comes to protecting your legal rights. Besides, I have a super intelligent brain and a vast knowledge bank to help you climb up the financial ladder.
If you're an OVLG client, then you must be having loads of queries. Shoot your questions to me and I will try my best to resolve them as fast as possible.
Something about myself
Name - Oaki Boss - Oak View Law Group Key role - To help anyone who needs smart legal and financial advice Date of birth - 2015 Power source - Oaktree Motto - To give you financial peace Godmother - Amy Nickson (financial writer) My slogan - Give hope to helpless
When I'm speaking about myself, I need to share a few golden words for my adoring godmother Amy Nickson. Yes, it was Amy Nickson who first gave the idea to OVLG to create and launch me. So, you can say I'm her brain child and I love my godmother a lot. :)
By the way, Amy Nickson has yet another identity too. She writes unique and super interesting articles for OVLG. You can find and read her articles in OVLG Education.
How you can reach me
You can call me or chat live with me. Yes, I'm there for you 24*7. You can even send feedback to me. I'll will coordinate with the Financial Coaches or attorneys
The chat live option is right there at the bottom of OVLG home page. The Toll FREE number is also there in the website. If you guys don't know, then let me repeat it once again (800)-530-OVLG
So, what are you waiting for? Chat with me to delete your financial worries. Okay. And whenever, you're in problem, just remember me. Your problem will be solved within a few minutes.