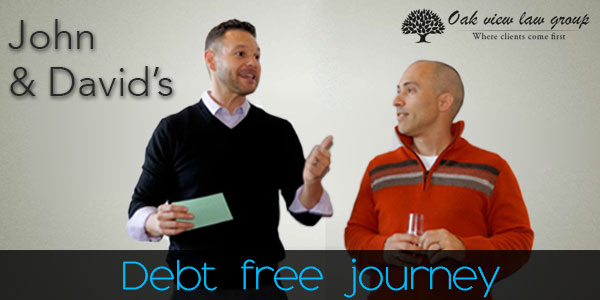 Apart from offering frugal tips, rich household budgeting ideas, and legal fixes for debt problems, it's also our duty to publish stories of real people who took control of their finances and defeated debt.
Today we are bringing you the story of John & David - a gay couple from Denver, Colorado, who have been living together now for last 11 years. Apart from fulfilling their traveling spree, David and John spend a lot of time on Debt Free Guys - a personal finance blog that helps people with their finances.
Here is the interview:
Andy: Thank you so much for agreeing to share your story with Our Debt Free Family! Let us know somewhat about yourself. How old are you? Are you single or married? Do you have children? If so, then are they staying at your house or do they live somewhere else? Where do you live?
John: The Debt Free Guys are David Auten and John Schneider from Denver, Colorado. We're a gay couple who has been together for over 11 years. We aren't officially married, but may as well be and will be someday. We have no children and no pets.
Our goals in life are to travel the world and live an enjoyable retirement. We currently spend a lot of time building Debt Free Guys as a platform to help everyone with their personal finances, especially credit card and debt management.
Andy: What do you think about good debt? Given the current economic situation, do you still consider mortgage or student loans as good debt?
John: We still believe there is such a thing as good debt for those financially mature enough to manage it. As with anything, too much debt of any kind can be bad. For example, we don't believe that college debt is in itself bad. Neither of us would have our college and advanced degrees without college debt. The cost of college today, however, is considerably higher than when we went to college.
Initially, the idea was that one could work their way through college. That became no longer feasible. Then, one could quickly pay off a small student loan with a low interest rate by getting a job out of college for which they otherwise would not have been qualified. Student loans today are three and four times what they were even 20 years ago and graduating students now can't find jobs with salaries commensurate to their student loan debt.
Our book, MoneyConscious Student helps students manage their student loans and other costs so they can graduate with little to no student loan debt. This sets college graduates up for success upon graduation.
Andy: Why did you choose to concentrate on getting out of debt?
John: Between the two of us, we had over $51,000 worth of credit card debt after we were together for about two years. At the time, we had 15 years of experience in financial services. We were living in a basement apartment with nothing to show for ourselves. The irony is that we helped others with their money and investments.
We decided that we weren't living the life we wanted to live. We did a lot of soul searching and decided that we could be happier and wealthier if we made better decisions.
Andy: What amount of debt did you pay off, and to what extent did it take you?
John: Between the two of us, we have over $51,000 worth of credit card debt. We took what we believe we drastic measures to pay our debt off as quickly as possible.
Andy: What was your biggest financial mistake (if any)? What did you learn from it?
John: Our biggest financial mistake was being unconscious about our income and expenses. In our book, Do You Know How To Be Money Conscious?, we talk about the benefits of truly understanding our personal financial situation, having a fundamental understanding of economics and politics and understanding your relationship with money.
We didn't know our true take-home pay. We didn't know how much we spent, or overspent, on food weekly. We didn't consider the effects on our finances when we used credit cards to make a down payment on a car. We didn't understand how $4 here and $3 there added to our credit cards quickly added up.
When we truly understood these things, we made better decisions.
Andy: What was your annual income during this time?
John: At the time, we each made more than the average American family. Combined, our income was very comfortable. Without proper money management, however, anyone can overspend or miss financial opportunities.
Andy: What sacrifices did you make when you were getting out of debt?
John: We changed nearly every aspect of our lives, including how we socialized with friends and family to how we grocery shopped and ate to how we spent time together. In our book,4: The Four Principles of a Debt Free Life, we talk about the complete shift in thinking and living we made to reach out goal of being completely debt free. We wrote 4 to help others make similar shifts to get themselves on the track to financial independence.
Andy: Why are we so addicted to debt? Is it because of our society or our culture? Why do you think?
John: We believe it's a combination of society and culture. Our society has created a culture that praises consumption. In fact, our society needs consumption to survive. When consumers don't spend, economies die. The consumer can't stop spending, though, and now nearly ever product on the market can be financed over years if the consumer doesn't have the cash to pay for it in full today.
Andy: Have you had enough of the worry and burden that debt creates?
John: Yes. Humans are driven by a desire to acquire love and a desire to avoid pain. We reached a state that was so uncomfortable for us that we were motivated enough to change it.
Andy: What is the very first step for someone who is deep in debt but wants to get out of it? What's the first step you would advise for him?
John: The first step is to truly decide to change. Without fully and completely committing, you will never truly succeed. You can't kind of want to pay off your debt You can't wish to be debt free. You have to fully and completely commit..
Andy: What is the best part about debt free living?
John: Our quality of life now is better than when we lived off of credit cards. We travel more. We're on track for an early and amazing retirement. We have nicer cars. Have our own home that we love and is not in a basement. We eat and live better and it's all because we're not financing every aspect of our lives.
I thank both of you for sharing your story with our readers and also for the meaningful insights on society, economies, culture and consumption. Our best wishes are for you and your blog - Debt Free Guys.
What About You?
Participate in the conversation. What parts of John and David's story did you find the best? What tips from them you think might work for you? Share in the comments below.