OVLG has come up with a new and interesting contest for the people. It's called the OVLG iPad Giveaway wherein you get a chance to win an iPad Air.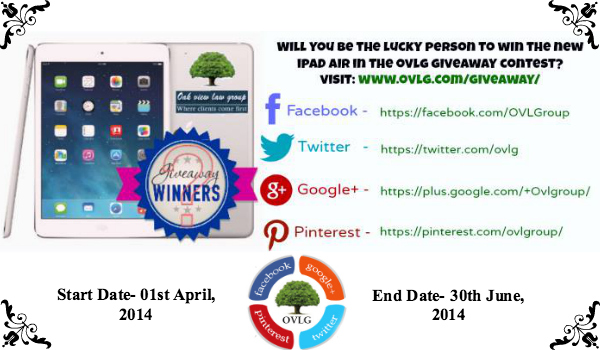 Rules of the contest
The rules are pretty simple and easy. All you need to do is to follow a few rules:
Check out the other rules from here – https://www.ovlg.com/giveaway/
An encouraging response from the participants
A huge number of people are showing their interests in the OVLG iPad Giveaway. The contest has been running from April 1, 2014. Till date, 164 people have participated in the contest through the following social media platforms:
Facebook – 52
Twitter – 42
Pinterest – 30
Google Plus – 40
So far, participants are quite excited about the contest. For instance, Stormie Taylor Guldry says – "Beggars can't be choosers LOL. Me being the beggar of prayers that I win this of course! There's no words to tell you how excited I would be if I won this Ipad to use for my business. It would change a lot of this for me. Good Luck all!".

Another participant, Jan Walstead said, "Sounds interesting…and the iPad is so handy these days. Thanks for the opportunity OVLG !!".
So, what are you waiting for? The opportunity is just knocking at your door. All you need to do is devote a few minutes at various social media platforms and participate in OVLG Wall. Who knows, you can be the lucky one and win an iPad Air soon.