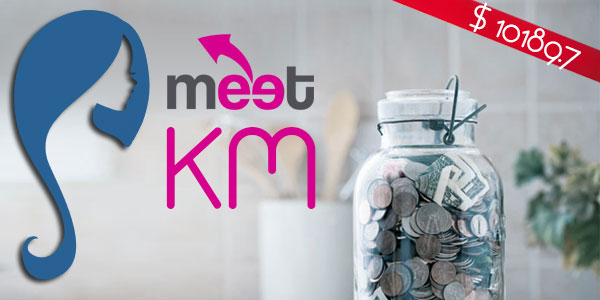 This post has been made by KM, an ordinary girl who paid off debts by living on one income and accepting OVLG as her financial friend.
"Sometimes, I feel that it is more painful to pay off debt than giving birth to a child. The endless negotiations and the stress of carrying debt boulder on your shoulder 24*7 are too much. You can neither sleep nor walk stress-free. At least, in case of baby, a would-be mom gets relief after 9 months of incessant struggle. But in the later case, there is not even that option. You don't know when you'll finally deliver enough payments to smash debts." - KM
Debt statistics
Total debt enrolled - $17,680
Total debt saved - $10,190
Types of debts - credit cards and medical bills
Meet KM - The girl who lived on one income to save $10,190
I just can't recall the exact date and time when I had a chat with Van Cliburn. It might have been through OVLG's live chat option or on Facebook. But the reason why it is still there in my mind is because ever since I met Van, my life became better. He gave me constant support in various ways and motivated me to carry on with my struggle to pay off debts. Here's how.
Wait a minute. Before I begin my story, let me give you a preview of my life. Only then will you understand why I'm ever so indebted to Van Cliburn (OVLG's financial coach).
Preview of my life - A carefree girl with lots of debts
I had a rough childhood. My parents broke up when I was only 8. So I didn't have any opportunity to get proper guidance from both my parents. My mom used to go for work and was hardly at home. The total family responsibility was on her shoulder. So, by the time she finished all her work, I used to be already asleep. And as far as my father is concerned, I can only say that he was one person who had only time for me when his girlfriend allowed him to visit our house.
Anyway, as I grew up, I made friends and entered into college. I loved attending college as it gave me a chance to mingle with my friends and had a gala time. I partied hard, went for vacations and shopped like a millionaire. All through my credit card which mom gifted me on the day I turned 18.
By the time I completed my graduation, my total credit card debt escalated to $10,000. I was not doing any job right then and couldn't ask for more money from mom either. She was already doing so much for me. How could I ask for more? But, I couldn't afford to ignore credit card bills for a long time. My credit score was falling day by day.
Even before I could come up with a solution to the problem, my mom met with an accident. She was badly injured and couldn't even go out for work for a month. The medical bills and other associated expenses racked up another $7680. This increased the total debt to $17680 within a few days.
The problem unfolds and a solution awaits at the door
I was trying my best to hide all the gory facts from mom. But mothers have a special power. They see even the invisible things. As she gradually became better with proper care and medication, she started asking me about the expenses. I avoided the topic for a few days but when the debt stress started taking a toll on my mental health, I told everything to mom. She was aghast especially about the credit card debt. She said,
"I shouldn't have given you that credit card. You couldn't even take care of a single card properly".
I couldn't meet her eyes for the first few days. But mentally I was relieved since I didn't have to play hide and seek with her anymore. I promised mom that everything would be fine soon. The only problem was I didn't know how.
Since no one could give me a proper solution, so I finally decided to Google. As everyone says, Google has the solution to every problem. And they were not wrong. Really, Google has a solution for your daily problems.
I came to know about OVLG from Google. I called them up and explained my problem to Van Cliburn. I was not thinking anything. I was just answering his question one by one. After the session was finally over, Van comforted me and gave me 2 quick solutions to my problems.
Time to action and ditch debt
Solution no 1: Settle your debts
The first solution was to settle my debts. Van said that it could help me to discard debts by paying much less than what we owed. He promised to negotiate with the creditors once I enrolled into OVLG's debt settlement program and completed the entire procedure.
Solution no 2: Live on one income
Van suggested me to live on one income. Since both of us were working (yes, I had taken up a job of a personal secretary by then), so he advised us to spend my income and save mom's paycheck. It was pretty hard initially. But we managed. Initially, we tried to live on only 1.5 income. Then we gradually started saving 75% of mom's income and using the rest to pay for the daily necessities. And finally, the day soon arrived when we learnt the tricks to save 100% of mom's income. It was a proud moment for us as it helped us to save a good amount for settling debts.
Problems solved and got a fresh lease of life
Once we saved a good amount, Van negotiated with my creditors and settled my debts. We saved almost $10,190 in total and this helped us to get a fresh start. We saved this amount to pay for emergencies.
Mom has got a better job now and I'm still continuing my old job. So, life has become slightly better now. Our next goal is to buy a home. I know it's one little ambitious dream but we'll work hard to fulfill that. Just keeping fingers crossed.
So, this was KM's debt success story. We are extremely happy for her and wish KM all the best in life. We hope she buys her dream home soon without any further struggle. But wait a minute! What about you? Do you have any interesting story to share? Have you too kicked debt out of her life? If yes, then share it with us. It will help to inspire millions of people.
A Year Later - From penny pincher to pitcher full of dollars
Once our accounts were back into black, we made some quick changes to our lifestyle to suit our financial needs.
Retirement Planning
My mother and I started contributing to our individual 401(k) accounts. All contributions are tax deductible which means you don't have to pay any taxes on whatever you save in this account.
Both of us were seriously tapping into the employer's pension plan. Fortunately, our individual employer provided traditional pension plan. To find out its value, we asked for the individual benefit statements from our respective employers.
Next, we traded our guns on Social Security benefits. On an average, Social Security benefits can match up to 40 percent of an individual's pre-retirement income. I left no stone unturned. I calculated both mom's and my benefits using the retirement estimator provided at the Social Security Administration website.
Credit repair
Yes, it's a necessary evil. That's not just for settling debts, but also due to months of delinquency and missed credit card payment deadlines. So, I started using a budgeting app to make sure, neither me nor my mother were spending irresponsibly like before. As a result, we stuck to our budget and eased some good amount of dollars.
All the extra dollars were used to make all the debt repayments like mortgage, credit cards, hospital bills, and so on. Over time, both our credit scores improved and we were promoted from sub-prime borrower to prime borrowers.
Neither me nor mom, carried more than 1 credit card each. And vowed that we'll use cash for all payments and the plastics only for emergencies.
Meanwhile, both of us got secured credit card that boosted our credit score further. This helped into create a reliable credit history and once again, the floodgates of loans were thrown open. However, we treaded cautiously.
Groceries and utilities
As me and mom are working and busy. Therefore, there's hardly any need for us to continue with the local library subscription. We had to do away with it. Savings was all we had in our mind and it was a mutual decision.
Now, we looked for coupons to buy the toiletries and groceries. Made just one visit to the grocer's shop and yes, with a proper list. This prevented us from making a mid-week visit to the grocery store and saved us time during the weekdays.
We improved our home's bathroom and weatherization to reduce energy consumption, hence, lowered our monthly energy bill.
Shopping and eating out
Now, I stick to my shopping list and always pay in cash, just so to remind that it's tough to earn money but it's tougher to keep them.
I've reduced frequenting to high-end restaurants and discs.
In simple words, I no longer try to keep-up-with-the-joneses.
Within a year, we were a lot happier and financially healthier. Our cash reserve has grown and we hope to reap the benefits when the time is ripe. Still, we've got a long way to go, before we say Cheers!