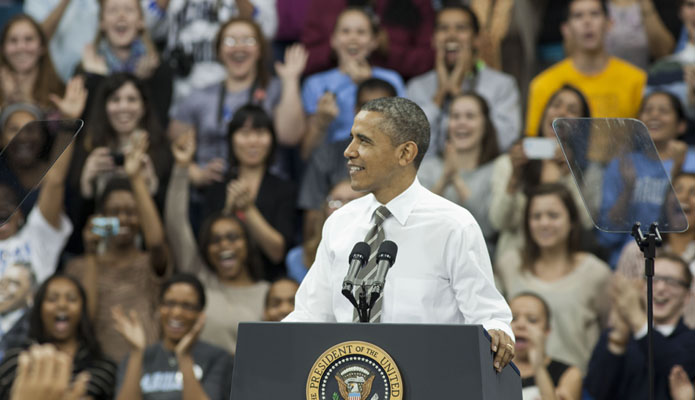 President Obama, in an attempt to woo the youth in November's election, is trying to compel lawmakers to cease the doubling of interest rates on some student loans, which is the second largest source of consumer debt in the nation after home mortgages.
Rates on some of the student loans that are backed by the US government are going to rise on July 1 from 3.4% to 6.8% if the Congress does not pay heed to Obama's appeal for a one year let off.
Mitt Romney, the supposed Republican candidate for the presidential election in November, endorsed Obama's appeal, even though some Republican's within the Congress are skeptical about the reprieve. However, Obama's let off plan, will do no help to Michele Johnson, a 30-year old music teacher living in NY who accrued around $120,000 in student debt.
Michele, who graduated back in 2004 and has been working in 12 schools since then, feels so much exhausted due to her student debt burden that she is ready to give up her teaching credential if all her debt is forgiven.
According to data compiled by the Consumer Financial Protection Bureau (CFPB) and the Federal Reserve, at $1 trillion, the student debt has already moved so far keeping auto loans and credit card debts far behind.
According to Arne Duncan, the education secretary, nowadays, students are graduating with an average of $25,000 in debt and if the Congress fails to act, approximately 7.4 million undergraduate students will realize on an average another $1,000 debt over the life of the loan.
However, through this initiative, Mr. Obama is relying on the youth votes as he succeeded in managing around two-thirds of the cast by the 18-24 yrs age group back in 2008 election.
According to Gallup's weekly polls, Obama's political acceptance is highest among voters in the age groups of 18-29, and that might be the reason behind this immediate call. However, according to the Congressional Budget Office, a one-year reprieve for subsidized student loans would cost the Treasury around $6 billion. The republicans have already warned that the government to compensate this loss by cutting back elsewhere.
Mr Mitt Romney, in a statement, said that he is hopeful that policymakers would compensate the estimated $6 billion 'responsibly'; he refused to provide any specification though.
The student loans backed by the US government that Mr Obama is campaigning on, solicit the government to bear the interest while the student is in the college. Nevertheless, low default rates and the US Treasury yields have helped the US Department of Education realize a substantial profit by guaranteeing student debt.
If we analyze the past two fiscal years, the government's Direct Loan Programme have realized a $51.4 billion profit. However, for the 2013 fiscal year, the US Department of Education is expecting a profit of $33.5 billion.