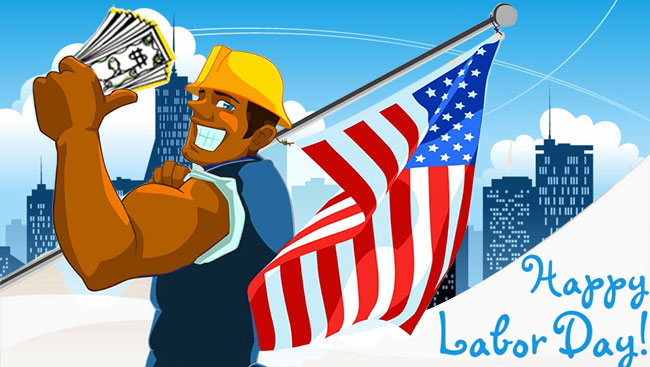 Labor Day weekend is just around the corner. It is the perfect time to take a break from your busy schedule and enjoy with your family. After all, this holiday is dedicated to all the Americans who work throughout the year for a better America. The federal government acknowledges the contributions of fellow country men and has gifted them with one day off work. Incidentally, September 1, 2014 is on this coming Monday. This means you're getting 3 days at a stretch to relax with with your family.
How to save and give less stress to your wallet
Here are some Labor Day escapes and inexpensive ideas which will fit well with your budget and make the weekend memorable and affordable as well!.
Be flexible and look for special deals
Visit local places to save on food and fuel
Invite your friends and enjoy
Make a road trip and save fuel
What to buy during this weekend
The end-of-summer sales are available during the Labor Day weekend. Actually, this particular time period is very dear to shoppers' hearts. And why not? You'll get plenty of special offers during this time as retailers want to get rid of excess items and restock for the festive season. If you consider yourself a savvy shopper, then here are some products you should certainly buy:
1. Shrubs and trees: September is a good time to visit nurseries and buy trees. Some of the nurseries offer flat 50% discount on shrubs. If you have lost lot of plants due to summer heat, then this is the perfect time to buy plants.
2. Gadget::Some retailers offer combo offers on gadgets. For instance you can get a MP3 player with a computer absolutely free.
3. Back-to-school supplies: All the goods retailers overstocked for back-school shopping are available at discounts after the Labor Day. You can get around 15% discount on the supplies.
How to throw a party without spending too much cash
Summer is almost over. You're already busy in preparing yourself for back-school-shopping. So, why not enjoy these final days with zest, food and entertainment? Stun your friends with an amazing party on this Labor Day. Don't worry if your pockets are light. Believe it or not, it is possible to organize a gala party without stretching your budget. Want to know how? Just look at these tips:
1. Create trendy invitation cards:
Microsoft WordArt won't help you create an invitation card that would excite your guests. So, why don't you use some websites that help you create designer invitation cards at affordable price? Browse through those websites and choose your design. Use a coupon to slash the price of invitation cards.
2. Think about interesting recipes: No party is complete without good food. Think about interesting dishes you can serve your guests on that day. Choose recipes that are budget-friendly and can be easily made with a handful of ingredients. Here is a short list of recipes you can try out on this Labor Day and win the hearts of your guests.
Appetizer
Spicy Bologna Appetizer
Vegetable pizza
Sweet potato veggi
Pepperoni puffs
Beefy bean bites
Main course
French onion burger
Spinach and goat cheese sandwich
Grilled pork tenderloin
Slow cooker zesty BBQ chicken
Chicken satay with peanut sauce
Grilled bacon wrapped hot dogs
Grilled butter fried chicken
Grilled peppers and italian sandwiches
Sweet and spicy baked beans
Side Dishes
Baked potato salad
Marinated tomato salad
Italian pasta salad
Grilled vegetables
Herb garlic bread
Smokehouse grilled barbecue beans
Bacon cheese deviled eggs
Desserts
Pan fried apples
Frozen banana treat
Easy pound cake
Strawberry pie
Oklahoma creamy ranch dip
Crock-pot cheesecake
Beverages
Homemade lemonade
Coffee frappe
Lemonade mocktail
Summer sangria
Hard raspberry lemonade
Cranberry iced tea
Remember, this is only a shortlist of recipes. It is not that you've to try out all of them. You can pick and choose the recipes to create your own customized menu. The recipes are easily available online.
Tip: Presentation matters a lot. Use fresh veggies from your garden to decorate your dish. Stock up some barbecue sauces and mustards too. Your guests can dip their burgers and sausages into them and eat.
3. Find out deals in grocery store: You don't have much time. The weekend is just around the corner. Check out the Labor Day sales at the grocery stores. Buy whatever you need to organize your party in advance. You can even buy items in bulk to get more discounts.
4. Try out potluck party: If your budget and man power don't allow you to create a lavish menu, then potluck party is a good option. You can ask your friends to prepare one dish from your customized menu. You can handover the recipes as well so that it would be easier for your guests to prepare them.
5. Tune in some good music: Music makes your party hip and happening. Play some good music and let the party begin on the Labour Day. You don't need an expensive music system at all. Just take an ipod and a speaker doc. Create your own playlist and start blasting the songs. Your guests won't need any more encouragement to start dancing with full enthusiasm.
Labor Day: Best destinations on a budget
If you have made up your mind to enjoy a short vacation with your family during this weekend, then here are some best destinations to celebrate the Labor Day.
Colorado Springs
Daytona Beach
Block Island
Washington, D.C
Charleston
Jersey Shore
Vancouver
Lake Tahoe
Rapid City
Cabo San Lucas
Orlando
Final impressions
Don't miss out the opportunity to score browny points from your kids in this weekend. Take your kids to New York City and complete your back-to-school shopping there. You can grab some good deals in edgy boutiques and vintage shops. Most New Yorkers will leave the city during the weekend. So, here's your chance to grab lucrative deals there. Hotel room rates will be down too.