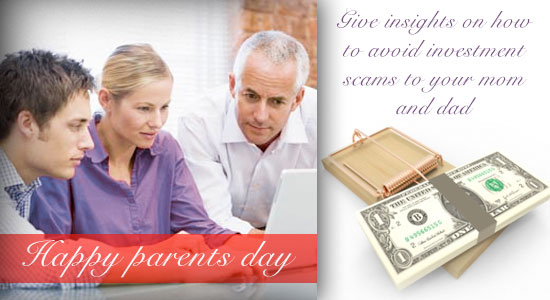 Seniors are easy targets of scammers. However, with the basic understanding of how scammers work, seniors can easily safeguard their hard earned dollars. Having a clear idea about how to make safe investments can create a huge difference in your parents' retirement years, and as dutiful son or daughter, you should always help them to attain that.
This year, on July 27, 2014, celebrate the Parents' Day differently. Give your parents something special. After all they have done for you throughout your life, they definitely deserve something special.
Material gifts are easily available in the retail stores and online. You can just place an order and buy something. There's nothing special about it. But, if you can act as a teacher for at least one day and give them lessons on how to avoid investment scams, then perhaps you'd be able to make a positive difference to their retirement life. And that would perhaps the best gift for your parents.
Lessons on how parents can avoid investment scams
Here are some lessons you can teach your parents to retire happily and peacefully.
Lesson 1: Shoot questions before making an investment.
Parents are quite vulnerable to the tactics of scammers who build a false bond of friendship. They feel indebted when these people give them some advice on investment scams. Ask your parents to not blindly trust anyone. Teach them to investigate before making any investment. Tell your parents to discuss with family members, know about the potential risks and background of the company before making any decision.
Common types of investment fraud
Oil and gas scams
Ponzi and pyrimad schemes
Promissory note
Prime bank fraud
Internet fraud
Risk free investments
Red flags of investment scams
The investment scheme is too good to be true: Check the present value of the stock and compare it with the promised yield.
The website is flashy and attractive: Anyone can create it with little technical knowledge.
Immense pressure to make investment now: Investigate to be sure you're investing in the right company.
It is only once-in-a-lifetime offer: Fraudsters make this remark since they'll be gone tomorrow.
Safety Tip
Con artists are good at gaining confidence of the people. Parents should treat all the investment offers with caution. They should check mails, phone calls and fax of the broker and the firm.
Lesson 2: Find out if the company is good enough for investment.
Your parents have always taught you to research before buying a product. Now, it is your turn to ask your parents to do the same while making an investment. Ask your parents to check the company reputation in the investment market in the following ways:
Have a look at the financial statements of the company
Check out the stock price in the last few months
Mails and company press release should never be taken into sole consideration while making any investment.
Lesson 3: Spend time with the salesperson to know if he is trustworthy.
Social interaction is not enough to know a person completely. Your parents need to find out if the salesperson has the right to sell securities. Next task would be to check if the salesperson or the company had any issue with investors in the past. The third task would be to check if any disciplinary action has been taken against the salesperson. Your parents can easily do the investigation for free by exploring the online database of Financial Industry Regulatory Authority (FINRA) and SEC.
Lesson 4: Ask questions at the time of retrieving profits.
Your parents are investing their money for reaping profits. If the salesperson or the broker creates problems at the time of cashing out profits, then your parents must ask for a proper explanation. Chances are high that the salesperson has already taken away the money. Tell your parents to not get pacified when the salesperson says that the profit has been rolled over into some other investments.
Lesson 5: It is a must to check unsolicited offers minutely.
Overexcitement is not good for health. If your parents receive get an unsolicited mail or a fax about a company, then advise them to get information about it from an independent source. Several scammers send emails, fax, articles to create buying frenzy on thinly traded stocks. This helps to increase the price of the stock and the fraudsters can easily sell their shares in the market. The price of the stocks falls rapidly once the fraudsters dump their stocks.
Lesson 6: Stay away from offshore investments as much as possible.
It is best to stay away from offshore investments because you can never know what can happen with your money abroad if anything goes wrong. It becomes all the more difficult to locate and retrieve your money.
What if your parents suspect something fishy
First thing first, tell your parents to not get scared or embarrassed. If your parents suspect scam or they're not completely satisfied with the explanations of the salesperson, then ask them to register a complaint with the state regulator or FINRA.
Where your parents can call to seek help
State Regulators:
(202) 737-0900
SEC:
(800) 732-0330
FINRA BrokerCheck:
(800) 289-9999
Where your parents can go for assistance
Securities and Exchange Commission
Office of Investor Education and Advocacy 100 F Street, N.E. Washington, D.C. 20549-0213
FINRA Investor Complaint Center
1735 K Street NW Washington, DC 20006 Fax: (866) 397-3290
Where your parents can register a complaint
Online complaint can be registered at - www. finra.org. Disciplinary information about a broker can be accessed at - www.finra.org/brokercheck.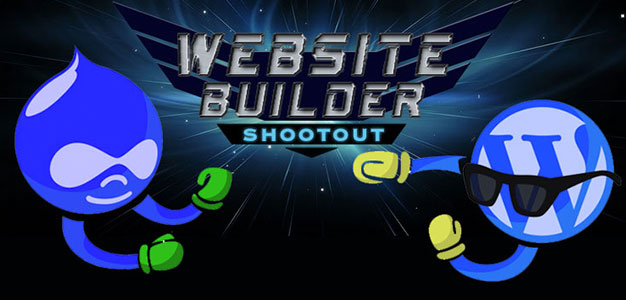 Oak View Law Group (OVLG) has integrated Drupal architecture to make the website user-friendly and secured. The new architecture has a powerful data management system and hopefully this will benefit clients, attorneys and other users all alike.
New architecture for better security and features
Being a law firm, OVLG understands the importance of having a secured website. Security is a major concern since clients share their confidential details with our experienced financial coaches and attorneys. So, OVLG always strives to integrate strong security features in the website.
The . The new architecture will make it very difficult to hack the website. Hackers won't be able access the account details of our clients anymore. Therefore, our existing and new clients can share their financial details to solve various kinds of problems without any fear.
Another interesting feature of the . This will make it even more difficult to hack the website in future.
OVLG is now administered through a centralized management system. Strong database structure and centralized management system will make it easy to integrate new features in the website. This will help us to offer better services to our clients in the long run.
Drupal architecture has countless attractive features. Apart from better security features and strong database structure, it also offers better content management system for users. This means content can be uploaded. edited and deleted easily.
Spams are venomous enemies of a website. Drupal architecture strives to kill those enemies by introducing image captcha in the OVLG Answers section. So, there will be less spams and more legal questions in the Answers section.
Why OVLG has adopted Drupal architecture and discarded WordPress
Almost 50% of the website has migrated to Drupal as it offers a wide array of features and a richer admin experience than WordPress. Read below to understand the differences.
Security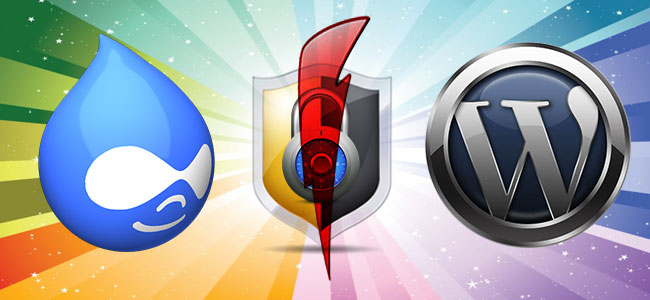 WordPress: This architecture is vulnerable to hackers. They can access plugin and remove thousands of websites. Usually, most security problems occur at the server level.
Drupal: It offers enterprise level security and perhaps this is why various government websites have embraced Drupal architecture. The most notable example is whitehouse.gov.
Responsive architecture
Drupal: Users can access OVLG from their computers and cell phones. This means there are 2 versions of OVLG - (i) For desktop (ii) For mobile. This calls for responsive design and development, which can be better managed through Drupal architecture.
In a responsive design, images don't scale properly to every break point. Drupal architecture allows you to set image sizes with the Image Style module. You can do this through admin only. It may take a little bit of time, but at least you can complete the work inside of the admin. You won't require php files.
WordPress:Here image sizes for every break point is available in the functions.php file.
Mobile theme
WordPress: You can get mobile starter themes in this architecture. You may also use a native mobile application.
Drupal:This architecture offers extra content fields for every page that will appear in mobile devices. Besides, they're better run off a sub domain.
Future proofing
WordPress: Both the code and the database need upgrade. The new or upgraded version is available in every 3-4 months.
Drupal: The code is not upgradable. However you can upgrade the database.
Last but not the least, WordPress is good for small blogs and small websites. On the other hand, Drupal architecture is suitable for a big website like OVLG. It offers better admin experience for content editors. Besides, it has some strong features to handle complicated projects.
. So, we are determined to take all the steps to make our clients happy and satisfied. Drupal architecture is new. As such, there might be a few problems in the first few days. We'll solve them soon so that our clients can use our services and enter into the debt free life quickly.
Wondering how to clear the outstanding balance on your credit cards? Contact OVLG and get the best legal solution to your debt problems.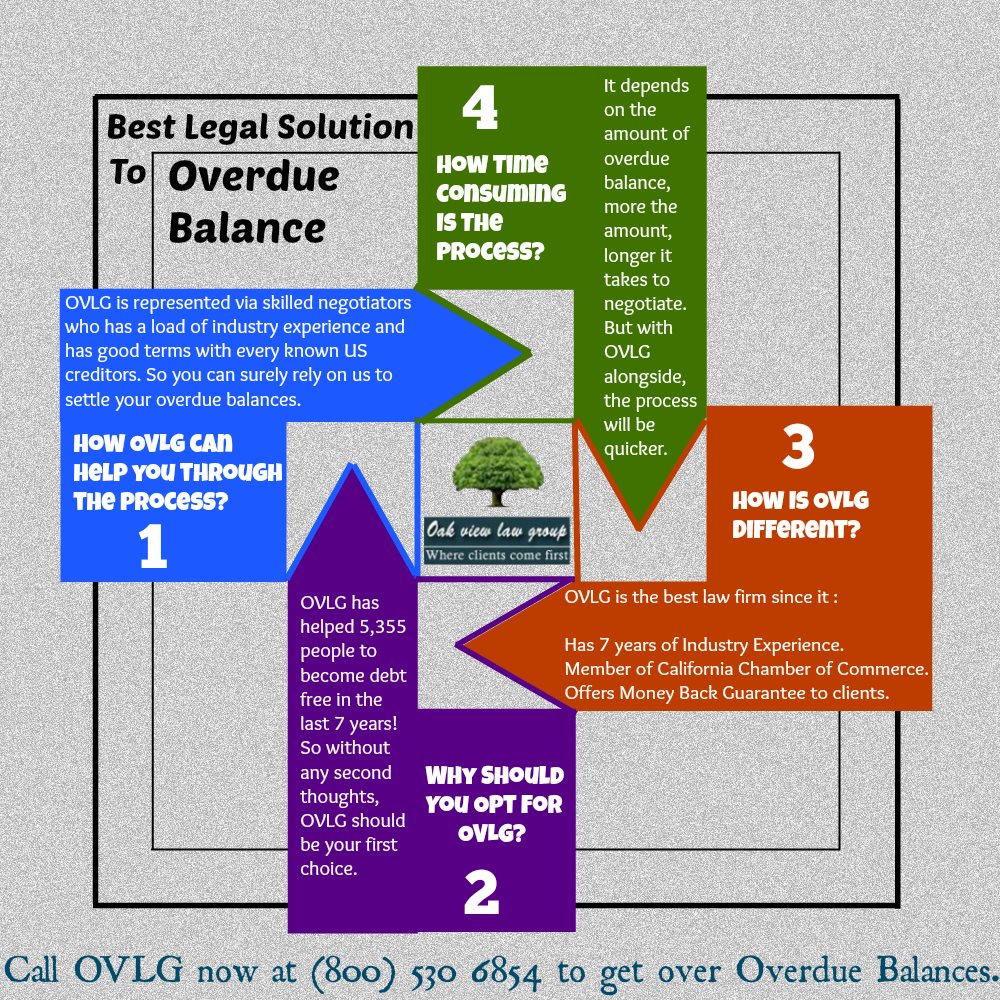 Wondering how to get out of wallowing debt? Tired of looking for solutions to untangle your financial complications? If yes, then just dial the Toll Free number (800) 530-OVLG to start the process of solving your problems. OVLG is the one stop shop for any financial complications. We are there to help you end your financial problems at a positive note. Be it a debt related problem or something else, our attorneys can offer you the best legal help at super low fees.
So, instead of passing sleepless nights, contact us now to get the best legal services at reasonable cost.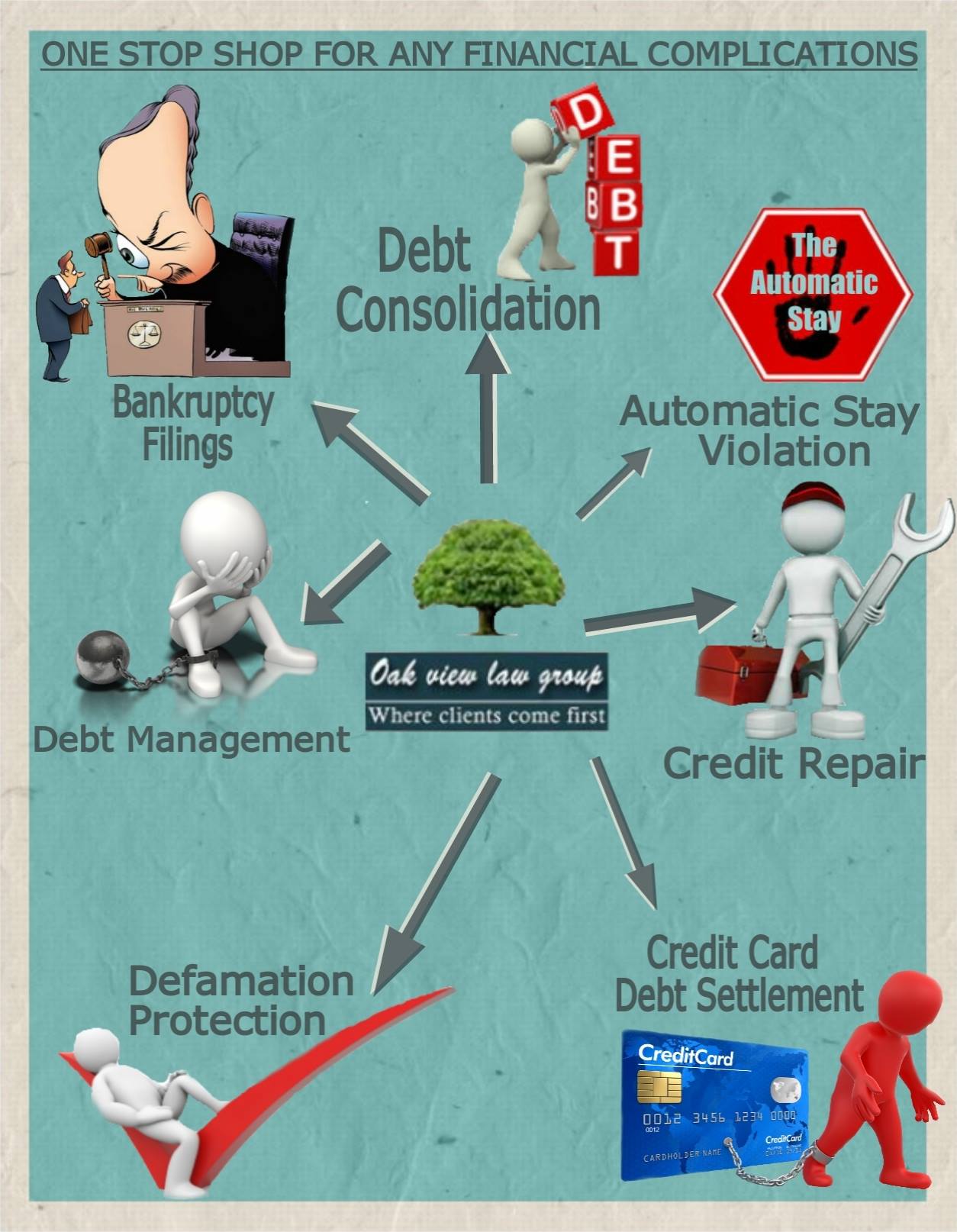 OVLG has come up with a new and interesting contest for the people. It's called the OVLG iPad Giveaway wherein you get a chance to win an iPad Air.
Rules of the contest
The rules are pretty simple and easy. All you need to do is to follow a few rules:
Check out the other rules from here – https://www.ovlg.com/giveaway/
An encouraging response from the participants
A huge number of people are showing their interests in the OVLG iPad Giveaway. The contest has been running from April 1, 2014. Till date, 164 people have participated in the contest through the following social media platforms:
Facebook – 52
Twitter – 42
Pinterest – 30
Google Plus – 40
So far, participants are quite excited about the contest. For instance, Stormie Taylor Guldry says – "Beggars can't be choosers LOL. Me being the beggar of prayers that I win this of course! There's no words to tell you how excited I would be if I won this Ipad to use for my business. It would change a lot of this for me. Good Luck all!".

Another participant, Jan Walstead said, "Sounds interesting…and the iPad is so handy these days. Thanks for the opportunity OVLG !!".
So, what are you waiting for? The opportunity is just knocking at your door. All you need to do is devote a few minutes at various social media platforms and participate in OVLG Wall. Who knows, you can be the lucky one and win an iPad Air soon.
Pages