Wiki Article Picture: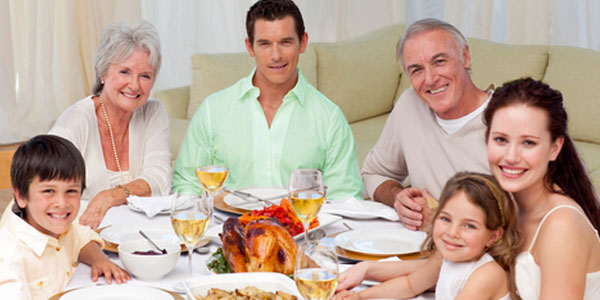 It has become almost impossible to think about holidays without having a grand feast. And turkey is considered as the most traditional centre dish on Thanksgiving table. But why turkey? Why not ham, goose, duck etc. Well, the story goes like this, "The First Thanksgiving" feast was held between the pilgrims and the Wampanoag in 1621 at Plymouth Colony. There were many wild turkeys available those days. The feast contained turkey, waterfowl, venison, fish, lobster, clams, berries, fruit, pumpkin, and squash. The food was received by the pilgrims from the Native Americans.
But this is only one story. There are other popular stories related to Thanksgiving Day as well. So, nobody can't say for sure why the turkey is synonymous with the Thanksgiving Day.
But, with time, people have become more adventurous with food, especially during any celebrations. They're now more experimental with anything. They're now adding turkey to every festive menu. In recent times, people are enjoying stuffed turkey, goose, pork, duck etc on their dinner table more and more. And why not? After all, there are so many delicious turkey recipes with variety of ingredients. Here I'm presenting some decent yet pocket friendly main dishes for this festive season.
Low cost turkey dishes
The more you add flavor, the more you get a better taste. But, holidays are really expensive. You need to buy gifts, clothes and foods. You need to throw family parties as well. So, I think it will be really helpful if you can manage some yummy foods and feed your invitees within your budget.
1. Turkey with vegetable stuffing
Add something new in your festive menu. You can try this menu with beef as well.
Ingredients
Diced tomatoes: 1 (14.5 ounce)
Spinach: 1 cup
Chopped yellow bell pepper: ½
Chopped red bell pepper: ½
Chopped zucchini: 1
Sliced mushrooms: 1 cup
Chopped onion: ½
Olive oil: 2 tablespoon
Ground turkey: 1 pound
Salt and pepper: according to taste
Garlic powder: according to taste
Garlic powder: according to taste
Green bell peppers: 4 (nicely remove the top and seeds)
How to cook
Heat oven to 350°F.
Wrap 4 green bell peppers in aluminium foil and make them as container. Then place them for baking. Remove them after 15 minutes. Take a skillet and cook the turkey over medium heat until the turkey gets browned. Heat the olive oil and in the same skillet and cook onion, mushrooms, zucchini, red bell pepper, yellow bell pepper, and spinach. Add turkey when the mixture gets tender. Then mix tomatoes with tomato paste, garlic powder, salt, and pepper for seasoning. Pour the ready mix in the green bell pepper container and cook for 15 minutes and serve hot.
2. Grilled turkey
This one is the most traditional turkey dish but if you want any changes in taste then have it with gravy to relish the tender and juicy turkey.
Ingredients
Whole turkey: 12 pounds
Vegetable oil: 1 tablespoon
Italian seasoning: 1 teaspoon
Salt: to taste
Pepper: to taste
How to cook
Need to prepare an outside grill.
First rinse well the whole turkey and dry it. Blend the vegetable oil and Italian seasoning oil in the inside portions of turkey. Add salt and pepper inside it as well. Place the whole turkey on a metal grate within a large roasting pan. Place the pan on the grill for 2 to 3 hours to 180 degrees F(85 degrees C). Serve after it gets ready.
3. Delicious roasted turkey legs
You can try this dish throughout the year. It is also suitable as starters and you can have with some great wine.
Ingredients
Turkey legs: 3
Stalks celery stalks: 3
Butter: 6 tablespoon
Water: ½ cup
Salt: to taste
How to cook
Heat oven to 350°F.
Rinse the turkey legs and dry them. Cut the leg tissue carefully like pocket. Fill the celery into each pocket then rub the butter and salt. Rub more butter to enhance the taste. Place them on the roasting pan for ½ to 2 hours to 80 degrees F (82 degrees C). When the legs get browned, then put some water. Serve hot with rice or noodles.
All the above dishes are very pocket friendly and easy. You can cook them on your own and celebrate the day with your family and friends.