Wiki Article Picture: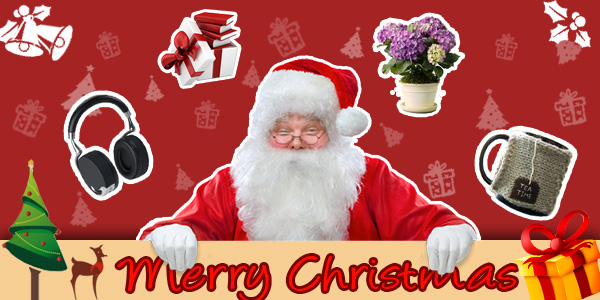 "Jingle bells, jingle bells; Jingle all the way."
Christmas is the time to unwrap glittery gift wraps. And to find out that perfect pocket-friendly gift is a real challenge. When you want gifts for all ages, the search gets even more difficult. Gifts bring a smile on everyone's face no matter how small they are. Are you confused about what you should gift your near ones this Xmas? If yes, then check this out.
Gifts, gifts everywhere
We all love to receive those beautifully wrapped presents. It's like a cherry on the cake if we receive our favorite gifts. A perfect gift, within a perfect budget, for a perfect age, is often difficult to find.
Have a look below for some budget-friendly Christmas gift ideas for all ages:
Game apps - Smartphones and tablets have made lives easier. If you have one of these, then you must , , , and much more as a gift. You can also buy old-school board games.
Plants - . If the person whom you're gifting a potted plant loves gardening, then it'll be a great gift for him/her.
Special Treat – Cookies, chocolates, ice creams, apple pies, donuts, etc. are always popular among kids. Pack their favorite items and give them as a gift. It'll be a great idea if you call the kids at your home for an ice cream party. . Believe me, they'll just love it!
Jigsaw puzzles – Whether you are 5 or 25, puzzles are always interesting to solve. . You can buy them their most loved puzzles and save a bit from your pocket as well.
Handmade jewelry – Well, junk jewelry is a top hit among women folk. Search the online shopping portals for these items and don't forget to grab the deal of the day. You can also .
Gift Cards - Gift cards are useful presents. You can also make personalized gift cards. You should search online for the gift card you need. Some of the popular gift cards of 2015 are:
*iTunes gift card
*Google Play gift card
*Walmart gift card
* Starbucks gift card
*eBay gift card
*Amazon gift card
Movie night - Whether you want to gift your child, friend or some relatives, a personalized DVD with the person's favorite movie is a superb idea. You can also arrange a movie night at your home. This'll put less stress on your pocket. But, don't forget to take the popcorn basket!
Books - Books are a person's best friend! And if the person whom you are gifting is a bookworm, then buying a book as a present is a million dollar idea

If the person loves to cook, then you can buy cookbooks for him/her such as, Budget Bytes cookbook, Mark Bittman's How To Cook Everything or How To Cook Everything Vegetarian. You can also make a DIY cookbook by putting down some good recipes in a scrapbook. Give them a twist by adding your own tips and tricks if you know any.

Photo frame with a photograph - Is there anything better than photos to capture those precious moments of our lives? Of course not! So this time, frame some beautiful and cherished photographs of your loved ones as a Christmastide. , .
Scented candles with frames - It feels nice if the room gets filled with the aroma of scented candles. Candles with candle holders are pretty and inexpensive. You can also .
Apple TV - It is one of the unique and cheap gift items you can ever present to someone. You can get it at $99 on Amazon. It's a small network and entertainment device that receives digital data from a number of sources. It'll just fit in your palm and also helps you to rent movies and TV shows. .
Noise canceling headphones - If there is someone who loves music, then you can gift headphones to him/her. It's a great gift for a person who enjoys hearing every music beat.
Cup cozy - Is your friend a coffee or a tea lover? Then gift him/her a cup cozy to keep the drink warm for a longer time. , . It'll save your dollars. Or, you can make one of your favorite fabric.
Handprint apron - A hand print apron is a delightful gift for a person who loves to cook. You can find it at the online stores, or you can also make one on your own.
Moleskine notebooks - Moleskine notebooks are a perfect gift for those who're hard at remembering their to-do lists. They're of different sizes. So, help your friend or relatives in remembering their to-dos and gift them these handy notebooks.
Mini music speaker - A lover of music will cherish these gifts surely. A portable mini speaker , anywhere, anytime.
Star-shaped crayons - Gift star-shaped crayons to an artist this Xmas and bring a colorful smile to his/her face. These are exclusive and inexpensive too.
Chocolates - Chocolates are always welcome by everybody - big or small, and especially if it's a Christmas time. You can also . Wow! They're colorful. Isn't it?
Slow cooker - It is the correct gift for the one who often host parties. A mini slow cooker keeps food warm. So, enjoy warm food all through the party.
Phone case - Colorful and designer phone cases are an ongoing trend now. Who doesn't love to decorate their phone? I hope everyone does. A designer phone case or a DIY phone case is a great Christmas gift. Think about it!
I hope, I'm able to help you with your shopping list. Do you have any other budget-friendly Christmas gift idea? Do share it with us.
Don't miss out - Christmas: 41 Do's and don'ts to shop for gifts, decorate and eat