Wiki Article Picture: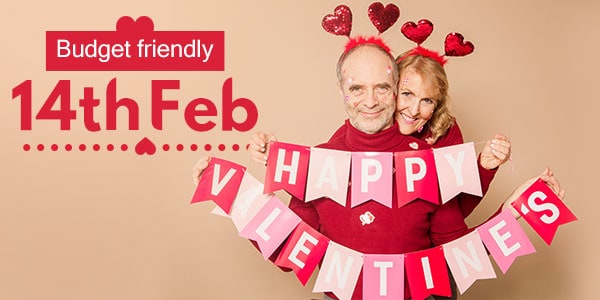 Valentine's Day is all about celebrating romantic love with your partner. But does it mean that you have to splurge to show your love and affection? I don't think so! And I guess you also think in the same way.
But many people love to splurge for celebrating Valentine's Day. According to a CNBC Make It report, people in our country spend an average of about $142 for buying Valentine's Day gifts.
But let me tell you that you can celebrate Valentine's Day without burning a hole in your pocket. That's why we have listed some of the best possible frugal ways to celebrate Valentine's Day without blowing your budget.
1. Plan a romantic dinner at home
The restaurants and pubs wait all the year for such occasions and double the bills to make maximum profits. By planning your dinner at home you can save a bundle.
You can even plan a cozy and elegant candlelight dinner on your lawn. Cooking is fun, isn't it? Well, my spouse and I planned to cook ours together this Valentine's Day. After much discussion, we concluded on creamy chicken and rotini primavera, Italian Turkey sliders with honey Dijon mayonnaise, and a delicious lobster preparation. And yes, it just came within our budget
2. Commemorate your first Valentine's Day
Take a trip down memory lane and visit the places you had visited on your first date.
For example, you may go to the same restaurant, watch the same movie and walk long down the road while returning to your place. If possible, wear what you wore that night. This will certainly hail your sweet memories and make your night pleasant for you.
3. Write a love letter
It might sound old school but trust me nothing beats penning down your feelings for your Valentine. So, send your partner a hand-written love letter and express what you feel for him or her.
4. Look for local events
On Valentine's Day, you may find various free events in your city or town to celebrate this special day. So, check with your nearby places or Facebook events that are going to host various free events for celebrating Valentine's Day.
5. Spread love
Well, Valentine's Day is not about you and your partner only. Rather, it's the day for spreading love and affection to your friends and family, too. So, celebrating Valentine's Day with those who are unloved, can be a great idea.
For example, you and your partner can spend the day visiting a bereaved close friend or family member. Also, you can volunteer at a school or an old age home to show your love towards them. Trust me, you and your partner are likely going to feel eternal peace and happiness by sharing love with the unloved people.
6. Go on a road trip
Arrange a good road trip with your partner to a place where you haven't visited before. Enjoy the serenity of nature and talk about the memories that you people have shared. You can take home-cooked food and have it by sitting in a park or by the side of a river.
7. Don't use credit cards
You might feel like swiping your credit cards for every expense related to Valentine's Day. But I would suggest you use cash instead of credit cards.
A Forbes study has revealed that people tend to spend more with credit cards. The reason being, credit cards can provide false financial security and you can keep on accumulating whopping outstanding balance amounts.
Eventually, it will become cumbersome for you to repay such hefty amounts. So, avoid falling prey to credit card debt by using cash as much as possible.
Inexpensive Valentine's Day gift ideas for him and her
My perception is, there shouldn't be one particular day for celebrating love. Every day allows you to make your special one happier. It doesn't mean you've to buy expensive gifts or arrange surprises daily.
First of all, selecting a gift depends on your choice. But if you are looking for inexpensive gift ideas that fit well into your budget, this article is going to help you!
Gifts for her
1. Arrange a backyard movie for her
Nothing can be more enjoyable than spending a cozy evening in your place. You can turn your backyard into a fantastic Valentine's spot to spend a romantic evening with your partner.
Place a cozy blanket or sofa with several cushions. Use hanging lights for decorating the place. Rent an outdoor movie screen and play her favorite movies. Don't forget to keep her favorite drinks and flowers.
2. Cook for her
Instead of going to the crowded restaurants on Valentine's Day, try to cook a meal for her. You can cook her favorite dishes and arrange a candlelight dinner in your own home. Moreover, the homemade special menu will go perfectly with the romantic ambiance you've created in your backyard.
3. Give her a customized photo frame
I know you've many framed photos in your house, but do you have a frame that is customized? If not, then pick this option. You will find many websites for customizing photos. You just need to upload a photo and turn it into a canvas painting or acrylic using the tool available on the website.
Just choose a photograph that she loved; it can be a place you've visited together, a place where you proposed to her, etc. The gift will look very artistic as well.
4. Gift a heart-shaped chocolate box
A box of exotic truffle chocolates will surely win her heart on Valentine's Day. It's an evergreen gift that costs $45 to 50 with ample varieties. You can go for this option to make her happy.
5. Create a mixtape for her
She loves music, right? So, why don't you just create a playlist for her? You can make a mixtape with songs that she loves most or from the time when your relationship started. Upload them in her iPod or music streaming account.
Gifts for him
1. Organize a love-hunt for him
Start by sending a text to his phone. Text him the clue. Keep texting him about the next clues that can be found all over the house. Give a hint about the surprise with each clue.
Write on paper about the surprise and attach it to a cushion or flower vase. Finally, unveil the surprise to him. The surprise can be a special bar counter, a well-decorated dinner table filled with his favorite dishes, a ring, etc. Just use your imagination for giving the best surprise to him.
2. Enjoy a picnic at your home
Order food from a restaurant and enjoy a picnic on your living room floor. Your kids will also love this idea and will learn the value of family and marriage.
3. Gifting him a bottle of his favorite wine
Giving a perfect bottle of wine is a gift that will never go old. You know what his favorite wine is. So, buy a bottle of wine and give it with a bunch of flowers.
4. Give a travel destination map
If he has a passion for traveling, then you can give him a traveler map set where state capitals, major cities, and highways are perfectly highlighted.
5. Give happy glasses
Spread some good vibes on Valentine's Day. Buy 2 or 3 glasses with messages like "you're the reason for my smile", "thanks for being you", etc. This will make him happy every day.
Celebrating Valentine's Day: When you are single and 50+
Being single and alone can make you feel bad on Valentine's Day. It hurts more when you're 50+ and doesn't have a partner. It's easy to tell you to love yourself and chill. I know this won't make you feel good.
So here we are with a bucket of 8 tips that can help you celebrate Valentine's day with full fervor.
1. Organize a party at your home
If you can celebrate Christmas or Thanksgiving Day with your friends, then why not Valentine's Day? Cook delicious meals, drink cocktails, and share hearty laughter with your friends or family members who will be free on that day.
2. Watch good movies
Good movies and good food can inject happiness even to the dullest days. So, cook something elaborate for yourself. Cook a favorite dish for yourself. Once done, sit in front of your TV and watch recent blockbusters. Stay away from romantic movies.
3. Sleep
Dive into a long and deep sleep. Switch off your phone and television so that nobody disturbs you.
4. Walk on the beach
Do you love walking on the beach? If so, then this is the right day to do it. Walk on the empty beach and take a bath in the sea. Carry a small picnic basket and have a yummy lunch.
5. Treat yourself
Create something positive. I would suggest you do something that you like. It will help you discard all your negative feelings and you will feel good about yourself. Besides, you can get some ideas to pamper yourself without spending a dime.
6. Have a nice meal at restaurants
Do you want to have a meal out? Go to your favorite restaurant and have a yummy meal. Listen to your heart. Don't think about others. Don't look at couples and feel sad. Remember, there is no rule that you need to have a partner to eat out on Valentine's Day. So, relax and enjoy your meal.
7. Don't call your ex
You might remember your ex-girlfriend/boyfriend/husband/wife a lot on this day. You might miss them on this special day. But even then, don't call them if they aren't a part of your life anymore. It won't do any good to you.
8. Stay away from social media
Your social media newsfeed will be flooded with romantic posts. Your friends and relatives will share pictures of their sweethearts. This might generate an inferiority complex which wouldn't be good for you.
Conclusion:
Love and flaunting go hand in hand and that is the reason why social media is so popular these days. Just like we love to see the peacock flaunting his vibrant feathers; people also love to flaunt their relationship, which is not bad.
But if you want to flaunt, you should do it within your means so that you don't rack up debt easily. However, if you fall prey to the debt trap, you can opt for debt relief programs to get rid of the situation easily.
That's why try to make your partner happy by staying within your budget. Just explore the ways and celebrate the day of love, relationship, and romance in a thoughtful way.