Wiki Article Picture: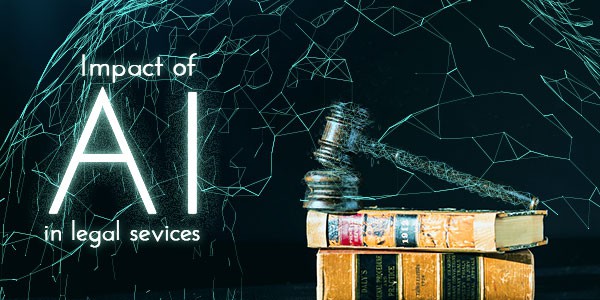 Emails changed the way financial services and law firms used to do business years ago. Now, artificial intelligence is creating a new revolution in the way how law firms and financial institutions work. It is helping to speed up the business process, provide prompt customer service, boost productivity, reduce the workload on human minds, and minimize mistakes.
Today, we will discuss how artificial intelligence is helping law firms and financial institutions to boost productivity, reduce expenses, and provide better services to their clients.
Impact of artificial intelligence on the legal sector
Artificial intelligence is gradually becoming an indispensable virtual assistant for the lawyers. It is helping lawyers to save time, workload, and money. It is doing everything that a human mind does - read, learn, analyze, communicate, and make decisions.
Artificial intelligence involves teaching computers to do various tasks that are usually done by human beings. This involves looking for a specific kind of pattern in data, testing it, and giving the results.
Lawyers can just consider artificial intelligence as a research assistant who can read, decode 2.5 quintillion bytes of data, and filter the information they want within a few seconds. This is something that a human mind can't do, but artificial intelligence can do this task quickly and give the information a lawyer is looking for. Artificial intelligence helps to do legal work on time and in a comprehensive manner. It sorts out only the relevant information from the documents and helps to save time on the boring paperwork.
Artificial intelligence (AI) helps to save precious time of the lawyer, and he can give his attention to something that adds value, which is beyond the capability of artificial intelligence. According to Gordon Moore, a senior scientist at Intel said that the growth in computer production will be almost double every 2 years, and the cost of storing data in computers will decrease significantly. And, when this happens, there is a steady rise in artificial intelligence.
Artificial intelligence boosts productivity and that too at a low cost. It helps lawyers to give more time toward providing valuable suggestions to clients, negotiating deals, and attending court hearings.
Lawyers have to analyze the contracts of their clients and find out the risks involved. They have to look for the redline items, edit where it is necessary, and tell clients if they should sign the contract. Artificial intelligence programs (AI) can review several contracts quickly, find the redline items, and give error-free results quickly.
AI can help lawyers in another significant way. It can evaluate data and predict the result of lawsuits more accurately than humans. AI is a storehouse of data. It can help lawyers to answer questions like:
What is the possibility of winning the case?
Should I settle debt out of court or fight with debt collectors at the court?
Lawyers have to conduct due diligence to dig out background information for their clients. This involves checking out several facts and figures of the previous cases to reach a financial decision. AI tools can check the facts and figures more accurately and complete the tedious task of the lawyers quickly. Lawyers can give prompt advice to their clients.
A divorce settlement is a time-consuming and expensive process. It costs almost $27000 to settle a divorce. AI tools can give online divorce settlement solutions at a moderate cost. The AI-powered software helps couples to go through a few modules and make important decisions as per their circumstances. Lawyers can step in at the right stage to provide appropriate guidance.
Impact of artificial intelligence on the financial sector
Artificial intelligence can help financial institutions, banks, fintech lenders, and debt collection agencies to achieve the following three goals:
Establish an effective debt recovery system
Increase profit potentiality
Improve customer service
Lending money is a risky business as borrowers often default on the loans. The financial condition of the borrowers has worsened after the lockdown. So, the debt collection success rate is quite low now. Moreover, the debt collection process is quite stressful for both the collector and the debtor. Machine learning can help to alleviate the stress for both the debt collection agency and the debtor. Let's find out how.
The debt collection process involves loads of emails, letters, and phone calls to debtors. Debt collection agencies have to remind debtors constantly that they need to make payments for their unpaid bills fast. Debtors also get frustrated and tense when they come to know that their outstanding balance is increasing fast due to the accumulating interest.
Machine learning technology can give an amicable solution to both the debt collection agencies and debtors. The AI programs can review the past repayment history of the debtor and can create an effective repayment plan accordingly. It can suggest a payment amount, which the debtor can easily afford to pay. Thus it can help to improve the overall repayment process.
Artificial intelligence programs or machine learning technology helps debt counselors to get relevant information about a debtor easily and formulate the right repayment plan. The AI programs have all the details from budget to debt amount to income to savings data of the debtor. So, it can help financial counselors to select the best repayment plan for the debtor.
Consumer credit counseling agencies also agree that artificial intelligence programs can help to suggest the best repayment plan to debtors and help them get out of debt fast. This also improves the client satisfaction rate.
The right communication mode can lead to a successful debt recovery process. It can help to get a better response from customers. AI programs help to identify and choose the right communication mode for different types of customers. It also helps the debt collectors to adopt the right tone for invoking the best response from debtors. The AI programs can also give personal information of the customers and help debt collectors to initiate a meaningful conversation with them.
Debt collectors often make decisions on how much to propose for debt settlement based on their instinct and experience. They do not follow any strict guidelines. AI programs help debt collectors to get detailed information on various customer profiles and decide the debt settlement amount accordingly. Based on the information provided by the AI programs, debt collectors can identify the customers who are genuinely in financial trouble and plan to settle debts. They can also identify the customers who have money but don't want to settle debts. So, debt collectors can decide how much to propose for settlement accordingly.
Conclusion
Machine learning can help financial counselors to refine their debt solutions and adopt an individualized approach for the debt repayment process. On the other hand, financial institutions and debt collectors can accurately predict who is likely to default based on customer behavior data given by the AI programs. As such, they can take preemptive measures to recover money from customers accordingly.